Apocalyptica
with Stained Angel
House of Blues, Orlando, FL • March 5, 2011
Jen Cray
The room breathes in the swirling, angelic chords of Metallica's "One" as the slow-burning epic poem builds to an exploding crescendo. Onstage there is no vocal accompaniment, so it's up to the 1,000 voices in attendance to fill the air with James Hetfield's lyrics. The voices compete with the triple cellos and drums for volume and the resulting effect is haunting. Heavy metal with cellos: it's such a simple concept, and one that Finland's Apocalyptica should patent because after 18 years of perfecting it, they've made it their own.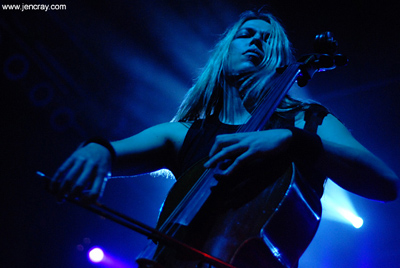 Indeed, the metallic symphony of Apocalyptica was a grand success, in stark contrast to the 30 minutes of opening band Stained Angel.
There were so many things wrong about Stained Angel, least of which was the bassist's tendency to lose his place mid song. At least he had a bit of "coolness" factor saving him, which is more than can be said about the frontman, Eli Chandler. Wearing a white blazer, a bandanna wrapped 'round his head, and a headset microphone, this dude was pretty behind the times. He further disappointed by butchering The Cranberries' "Zombie." A cheesy metal band covering Irish indie pop – that's a good idea. The only saving grace about this group was drummer Chris Gentry, whose skills and flair were the most captivating element about the band.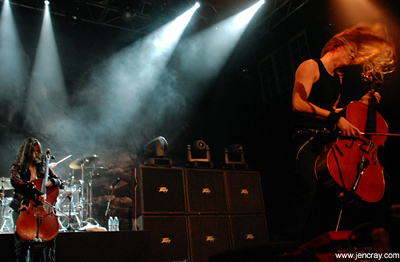 The extraordinary spectacle of seeing three exotic metal men delicately pluck beautiful madness out of cellos was made even more impressive thanks to a fog machine and a lighting scheme that made the stage look like the inside of a thunderstorm. Buried within were the members of Apocalyptica, whose faces were exposed in flashes of white and yellow light, but whose forms rested mostly beneath shadows of cerulean blue.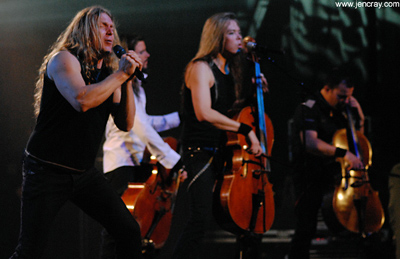 For 90 minutes heavy metal was made classy. Covers of classics by both Metallica and Sepultura (a brutal, awe-inspiring take of "Refuse/Resist" is a must hear/see!) were sprinkled into a set that featured a lot of originals, specifically off of 7th Symphony, their 7th full length album. "End of Me," sung on the album by Bush's Gavin Rossdale, was brought to life by guest vocalist Tipe Johnson. "Beautiful," a song that more than lived up to its title, was performed as a sit-down quiet moment of contemplation during which drummer Mikko Siren joined Eicca Toppinen, Perttu Kivilaakso, and Paavo Lotjonen as a fourth cellist.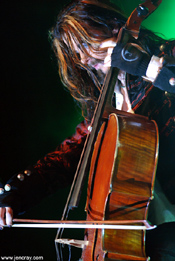 This mid-set, seated segment (they also performed "Nothing Else Matters" at this point) gave the men a moment to breathe before diving back into an impressively active performance that found them throwing the cellos around like they were light as violins. Toppinen, who serves as the frontman for the otherwise instrumental ensemble, frequently raised his instrument high above his head, one handed. Classically trained, heavy metal-loving, and freakishly strong – you just can't help but be impressed!
This wasn't your typical metal show by a long stretch, but that's what made it, and what makes Apocalyptica as a band, such a success.
To see more photos of this show, and others, go to [www.jencray.com](http://www.jencray.com/bands_live.htm).
Apocalyptica: http://www.apocalyptica.com ◼
---