Dum Dum Girls
with Tennis, La Sera, Dirty Beaches
The Social, Orlando, FL • March 12, 2011
Jen Cray
Unless you're a college freshman, Saturday nights in downtown Orlando suck. The Saturday before St. Patrick's Day – which happens to fall during both spring break and bike week, sucks even more! It's the one night of the year that I'm forced to pay for parking because all of the free street parking spots are full before 8pm. Still, the bill that The Social offered was tasty enough to woo me out of the quiet comforts of home: Dum Dum Girls, Tennis, La Sera, and Dirty Beaches.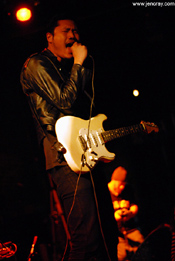 On record, any one of these bands puts a smile on my face. The reality of lining them all up, one right after the other, wasn't quite so fulfilling.
The one-man act who goes by the name of Dirty Beaches has got the look (Asian rockabilly in leather) and the voice (Jim Morrison monotone with sporadic bursts of volume), but is sorely missing a band. As interesting as his solo compositions are, he doesn't have the stage presence to captivate a crowd for more than a few songs. After the novelty of one man hunched over a guitar and a microphone hitting buttons at his feet to trigger backing tracks wears off, the show starts to feel like one long Morrison spoken word piece – minus the steady pace of The Doors that served to keep the songs flowing. Even a Stooges cover is delivered in the same unemotional, muddled vocal slur. Had he (Zhang Hungtai) stopped after three songs, I would've been hungry for more, but a full set quickly became redundant.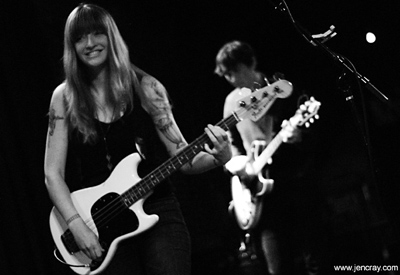 Vivian Girls' Katy Goodman has got a side project that spins the garage pop of her day-job band into a more flowery girl group-gone lo-fi swirl. La Sera, which finds Goodman backed by three dudes, sounds like a girl-next-door, super sweet modernization of The Sundays – at least, that's how it sounds on record. The 3D version of La Sera took a little warming to find its groove, due in part to the lack of reverb on Goodman's vocals. After a bit of vocal stumbling it all came together nicely, just in time for the album's best songs, "Devils Hearts Grow Cold" and "Never Come Around." Joining the band on their last song, a cover of "Dedicated to the One I Love," was Tennis' tiny, curly haired frontwoman Alaina Moore.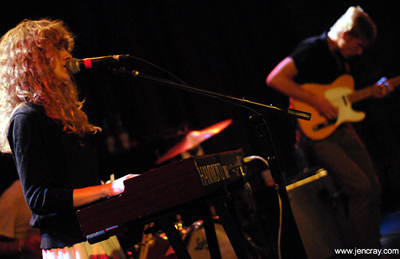 Tennis is a band best enjoyed if you know a bit about their background. In two sentences or less, married couple Moore and guitarist Patrick Riley left their inland home of Colorado, bought a boat, learned to sail, and headed out into the Atlantic Ocean. When they docked eight months later in Marathon, Florida, they decided to write some music about the experience and call it Cape Dory. What came out were light, airy songs with a subtle foundation of island music that are just poppy enough to be somewhat danceable – and pockets of fans in the audience were trying to do just that, albeit in an odd, interpretive, flowy kind of way.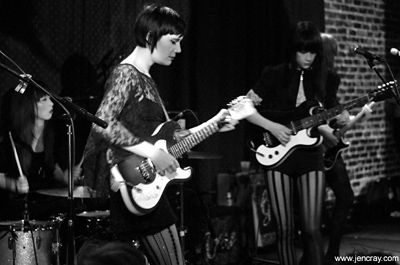 "Florida is very special for us, because it's where Patrick and I decided to start a band," Moore revealed before diving into a song about the location of that fateful decision, "Marathon."
The pop-centric, sunny-side songs were given little in the way of excited performance, yet of all the openers, Tennis garnered the biggest collective nod of approval from the crowded house.
By the time the four fashionably dressed darlings that make up the Dum Dum Girls strutted onto the stage I was desperate for some high energy. Dirty Beaches, La Sera, Tennis – they all had their points of interest, but none of them did anything to spike my vein. Dum Dum Girls weren't exactly bouncing off the walls, but they at least had presence.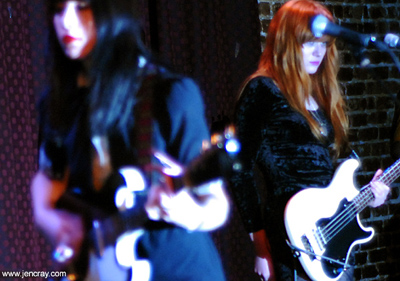 Opening with a darkly gothic cover of Rolling Stones' "Play With Fire," the Sub Pop ladies set the tone for a night steeped in sexy. Dressed in varying shades of black, with bright red lipstick screaming out from their petite mouths, Dum Dum Girls put serious thought into their look as a band, which is damn nice to see in these days of indie acts who like to look as if they just rolled out of bed. It's not a crime to want to look good, folks!
With little talk and hardly a break between songs, a set rolled over the crowd that hit every mark of the group's three releases (two EPs, and one full length, for those keeping score). "Bhang Bhang, I'm a Burnout," and "Jail La La" sounded bright and wonderful, and highlighted their ability to look like Robert Palmer's dancers yet play like The Go-Go's covering Jesus & Mary Chain. They didn't move around much, which is always a little annoying when you got to see a band perform, but what they lacked in animation they made up for in sound and vision. Their harmonies were spot on, and they were spellbinding to the eyes of the crowd.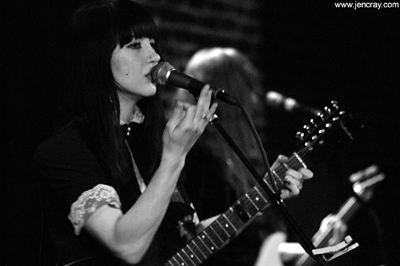 Though it wasn't until the last half of the night that they truly got comfortable onstage, a super cool closing encore of The Smiths' "There Is a Light That Never Goes Out" erased any docked points for a slow start.
To see more photos of this show, and others, go to [www.jencray.com](http://www.jencray.com/bands_live.htm).
Dum Dum Girls: http://www.wearedumdumgirls.com • Tennis: http://www.fatpossum.com/artists/tennis • La Sera: http://hardlyart.com/lasera.html • Dirty Beaches: http://dirtybeaches.blogspot.com ◼
---