Colin Hay
with Chris Trapper
The Plaza Live, Orlando FL • March 17, 2011
Carl F Gauze
Is it better to burn out, or to fade away? Colin Hay, with his group Men at Work, was one of those MTV superstars – multiple hot hot hot videos, multiple awards, half a dozen mega pop tunes, all in a short, magical four years. That was a quarter of a century ago, yet Mr. Hay is still busy: nearly a dozen albums, a song in a platinum selling soundtrack from a Grammy winning movie, and a high profile tour with Ringo Starr. He's also had some low points, driving his own van and pumping his own gas, but it hasn't brought him down. He still looks and sounds fine, and tells some funny stories.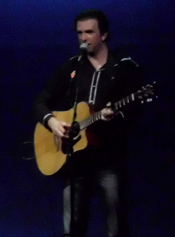 Tonight Chris Trapper opened for him. Mr. Trapper is another very portable guy with a guitar and a self-effacing style that matches nicely with his quirky folk songs. His take on the classic Irish death lament (after all, we were just a day away from St. Paddy's) was called "Put the Keg on My Coffin" and it was everything you could want – a little maudlin, a little snotty, and easy to sing along with. "Could I get you off my mind?" "Look What the Wind Blew in" and "Every Possession" flowed along clearly, and at last he pulled out a ukulele and closed with "Gone Again." The line to pick up his CD at the merch table was rather long and well deserved.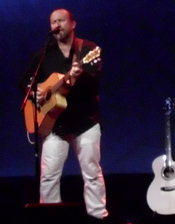 Colin Hay took the stage and opened with "Down Under." It's odd to start with his best tune, but he said it was so the older members of the audience could sneak off early and still feel like they got their money's worth. He spent a good twenty minutes telling stories about himself, his travels, and living in Los Angeles, and they were great. He's a funny, funny man possessing that Gaelic knack for storytelling and could properly survive as a standup act if it came to that. He mixed old and new material, and put in a mild plug for his new album, Gathering Mercury. The room was nearly filled, and I was tucked in a back corner but could hear everything clearly, even if a steady stream of beer drinkers came and left. There was only Mr. Hay and his guitar and a plain white sheet behind him making this one of the simplest shows of the year.
Mr. Hay drips nostalgia, but keeps on trouping. As he said: "I've had six hits. It's not as good as ten, but it's better than one." He may well have number seven up his sleeve; he's every bit as entertaining as he looked on television.
Colin Hay: http://www.colinhay.com • The Plaza Live: http://www.plazaliveorlando.com • Chris Trapper: http://www.christrapper.com/ ◼
---