The Electric Chair
directed by Mark Eisenstein
starring Victor Argo
Wild Eye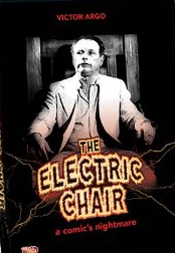 Tagged as "a comic's nightmare," Mark Eisenstein's 1985 feature The Electric Chair has Victor Argo as a comic-turned-shoe-salesman-turned-comic, giving his dream one last shot. Oh, and the stage he performs on has an electric chair setup looming over his shoulder the whole time. He's warned not to go near it, definitely don't sit in it, and absolutely don't even think about putting on the arm and leg straps. This one's a black-and-white adventure that travels back and forth between Argo's performances and documentary footage of a small, quiet town.
Would I recommend this for the casual film viewer, who really loved seeing The Rite with Anthony Hopkins last weekend? No. But, I would definitely recommend it to arthouse fiends of darkened theater boxes and the film festival throngs. They would get such huge, arthouse-y boners because they would "understand" what Eisenstein was "doing" with every theme, placement of scenes, and cinematic choice. I'm exaggerating to warn you. I'm neither, and I really enjoyed it.
Special features are bursting with precious gems, which include Eisenstein's commentary on the film, a trailer for The Electric Chair, and a trailer for an unreleased Eisenstein film called God Is on the Other Side with David Johansen/Buster Poindexter as God. Someone find a copy of this! It looks amazing!
Now, the greatest part of the "Extras" is that not only does it include a 23-minute short film called Roach, it also has an entire subsection called The Short Films of Mark Eisenstein, such as: Smog, Eight Tragedy Terms Papers Plus 3, The Professor, Mark Eisenstein: Inventor of the Frame, and Citizen Eisenstein, which is actually a film by Lee Kazista about Eisenstein.
To ride a cliché like a horse into the sunset, this DVD really does give you the best bang for your buck, and should not be passed up.
Electric Chair: http://www.wildeyereleasing.com/electric.html
---