Competition Animated Shorts
Various directors
2011 Florida Film Festival
Short films are the hors d'oeuvres of a film festival, and Animated Shorts the candy bowl. I've snuck a peek at most of this year's Competition Animated Shorts, which you will find scattered over a number of evenings of this year's festival. You'll need to check the schedule for the details, but here are a few tips to help you select your viewing schedule.
Film fest rock star Bill Plympton revisits his 2005 Oscar nominated "Guard Dog" by soliciting other animators to put their own spin on five-second slices of the orginal. Naturally there's a kaleidoscope effect of styles from Claymation to digital minimalism, but the energy and mania of that little ankle biter remains. I still like the orginal better, but if you're looking for the latest style guide for this art form, study this gem.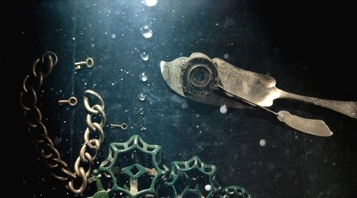 Don't blink when "The Deep" (directed by PES) starts; it's a brief 90 seconds but creates a surreal undersea world animated from tools you might have in your garage. No plot, just pure style, but very, very nice.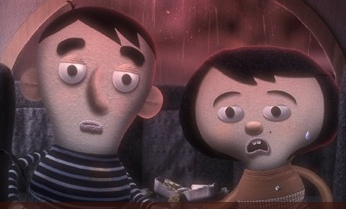 There's a creeping sense of paranoia in Max Porter and Ru Kuwahata's "Something Left, Something Taken." A pair of preteens takes the wrong cab from the airport, and the boy's obsession with forensic science raises the creepy driver's motives to armrest-grabbing intensity. It's a mix of stop motion and cell animation, and there's a full-length thriller lurking in these ink drops.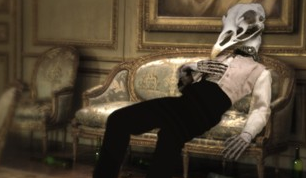 "The Birds Upstairs" is a truly creepy psychological study of failed parenthood and suburban suffocation. Bird skulls on human armatures cause a flux of unpleasant associations, and if you're considering parenthood or purchasing a parrot, you might reconsider after this soul-rattling experience.
A sloppy, brilliant wash of colors takes us into a dive bar in "Always, Only, Ever" from Barbara Benas. Explicit alcoholism and a restroom full of hookers make this kid-unfriendly, but a mysterious love letter rescues Benas' story from a moralistic lecture. The style is brilliant, the message hard to interpret, and that adds up to a "make you think" short.
The Rauch Brothers take a documentary approach to animation in "Danny & Annie." An older Jewish man meets the love of his life, and lays it out pretty plainly – "I'm old, I hurt, and I love you, so let's get married RIGHT NOW before I kick off." It's hysterically and touching and clever, just like old people.
Andy Kennedy's "Accumulonimbus" reminds me of Will Vinton's early work in Claymation. Pipes and building and time and space swirl to create a visual poem free of narration or value judgments.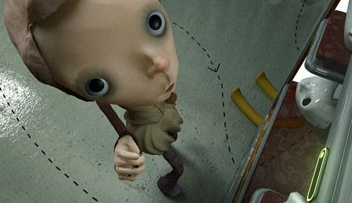 The highlight of the program is "The Wonder Hospital" (Beomsik Shimbe Shim). Here a young girl with an odd face seeks physical perfection in an advertisement. The Wonder Hospital lures her into a complex universe of medical torture, and while she ultimately does see her face beautified, it's not at all that she was hoping for.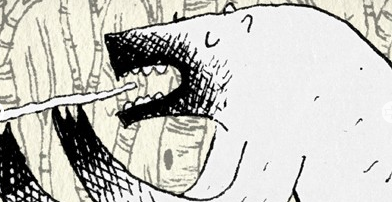 If you recall "Bambi vs. Godzilla," you'll love "Nosy Bear." Our Ursine protagonist finds an expired hunter in the woods, and examines his backpack and rifle. The ending is uncertain, and the bear takes a nap. Yes, it's surreal, short, and hard to interpret. I have watched it several times and still don't quite follow the ending.
We're near the end, but don't leave yet. "The Bottle" by Kirsten LePore unites a sandman and a snowgirl via a really reliable message-in-a-bottle service. As long as they are apart, they can build each other up with trinkets from alternating worlds, and when they decide to meet they both add to the mighty ocean. This is one of those amazing films that came from loving attention to each frame coupled with perfect weather and exceptional luck.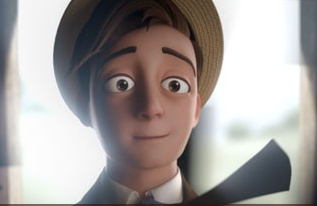 Our final animation comes from William Joyce and Brandon Oldenburg, their allegorical "The Fantastic Flying Books of Mr. Morris Lessmore" shows a universe of anthropomorphic books. Mr. Lessmore meets books, talks to books, repairs books, and is enveloped by them in a colorful world of fantasy that will make you shine up your library card and visit your papery friends. They miss you since you got that Kindle for Christmas.
Overall, this is one of the best sets of films to come together. I would be stressed to vote for the best, that job falls to the audiences for this festival. It's your call; don't complain if you don't vote.
Florida Film Festival: http://www.floridafilmfestival.com
---