Wanee Festival 2011 featuring The Allman Brothers Band
with Robert Plant & Band of Joy, Steve Miller Band, Widespread Panic, Stephen Marley, Ween, Taj Mahal, & many others
Spirit of the Suwanee Music Park Live Oak, FL • April 14-16
Phillip Haire
As I embarked on my second foray to the Wanee Festival, my excitement level was off the chart knowing the lineup of amazing talent that would encompass the next three-plus days in idyllic Live Oak, FL. I had three questions tumbling around as I drove: Would the weather hold for the duration? Would Robert Plant and Steve Miller live up to their legend? Would I be able to find my campsite at 2:30am every night? The answers, thankfully, couldn't have been scripted any better: Weather was superb, save for a quick storm Saturday, the "legends" played great sets, and my campsite was a stagger away from the small (Mushroom) stage.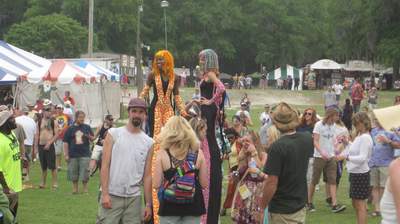 The beauty of Wanee, other than its physical surroundings, is the diversity of the acts it assembles. Although The Allman Brothers serve as "hosts" for the festival, it is not the exclusive "jam-band" or Southern-fried rock ilk that make Wanee tick. This year possessed a heavier, New Orleans funkified feel. Evidenced, right off the bat, on Wednesday night by Ivan Neville's Dumpstaphunk bringing it for the for the late-set. Opening with material from their new album Everybody Wants Sum, Dumpsta was primed for their second set, which was dedicated to "Soul Brother #1," James Brown. "Sex Machine," "The Big Payback," and "Please, Please Me" got the Dumpsta treatment. "I Feel Good" got honors for their encore and whipped the early arrivals into a frenzy.
Earlier in the evening, Melvin Seals, former keyboardist of Jerry Garcia Band fame, brought his band JGB to the stage for a set rich with Dead and Garcia jams. Another Wednesday treat was one of the last few remaining performances from New Orleans' own, Radiators. For over thirty years and nearly 4500 live shows, they have been bringing it hot and spicy to audiences worldwide. Even though they are ready for a well-deserved rest, it wasn't coming before Ed Volker and company treated us to a long set of "fish-head" music! I was fortunate to have an opportunity to see their live set before they un-plug for good!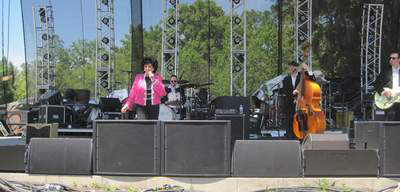 Thursday "dawned" (11:30am) to the down-beat goodness of DJ Logic spinning a nice mix of grooves that sampled Hendrix and Stevie Wonder alike. Blues Traveler frontman John Popper even put his harmonica in the mix, as he accompanied Logic's beats. Popper also brought along his "Dusky Troubadours" for a set that featured the obligatory Blues Traveler covers and a tune titled "Champipple,"for a concoction of champagne and Ripple fond to Fred G. Sanford.
Another Wanee treat was a set from "the First Lady of Rockabilly," Wanda Jackson. Having first performed in 1954 on tour with Elvis, she eclipsed all performers in age and experience, yet she proved that age is only a number as she belted out Jerry Lee Lewis' "Whole Lotta Shakin Goin On" and "Shakin All Over." Jackson also paid homage to Elvis, whom she held in highest esteem. Hearing her talk about touring, dating, and working with Elvis was a real treat in first-hand music history. She performed an obscure (to me) Presley ballad "Like a Baby" and a rousing "Heartbreak Hotel," apologizing for her aged voice along the way. Thanks to a career resurgence from Jack White, her new record The Party Ain't Over Yet was also featured and is highly recommended!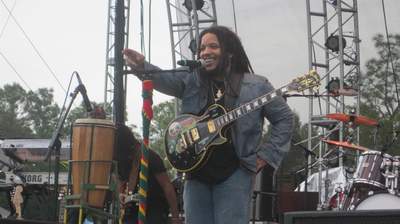 Wanee veterans Luther and Cody Dickinson appeared as the North Mississippi Duo, sans Chris Chew. Playing with passion and purpose in support of "Keys to the Kingdom," a tribute to Jim Dickinson (father and legendary producer), the brothers Dickinson ripped Wanee with a blistering set. Luther did some guest spots during the festival, but not to the extent of last year. One of the performers I was psyched to see, Stephen Marley, did not disappoint. Opening with "Iron Lion Zion," he transitioned seamlessly between songs from his Mind Contro release, father Bob's catalog ("Redemption Song," "Jammin," "Buffalo Soldier"), and a couple from his upcoming album Revelation Part 1. Marley sang an inspired set and set the tone for a weekend of positive vibrations. He and his band sounded great and have converted me to a "Soldier in Jah Army!"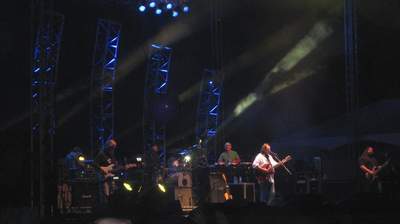 Throngs of people emerged at the main stage for the headliner of the evening, Widespread Panic. Their two and a half hour set opened with "Travelin Light," and was enhanced by "Party at Your Mama's House." Luther Dickinson joined on a couple tunes, jamming with Jimmy Herring on "Stop Breakin Down." A killer rendition of Traffic's seminal "The Low Spark of High Heeled Boys" proved a highlight. Panic showed no signs of slowing during this, their 25th anniversary. Lotus kicked off the first "late show" with plenty of fog, lights, and guitar-driven wizardry of Mike Rempel and Luke Miller, veiled under an electronic shroud of bass and beats. Karl Denson and his "Tiny Universe" set the groove in motion for Friday, with funky flavors oozing out of his sax, warming up with Matt Grondin while waiting for his guitarist to arrive from the airport. That didn't confront Karl as "Mo Betta" Brown blasted his trumpet across the main stage field until all was right in the universe.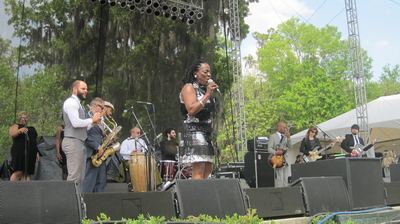 My focus, however, was on the Sharon Jones and the Dap-Kings upcoming set, which was canceled last year due to the "Euro-ash" that grounded all flights. Truly one of the Wanee standouts, Ms. Jones sultry, classic soul sound took us back to a time most have never experienced first-hand. With the Dap-Kings keeping the kick-ass rhythms on point, Sharon proceeded to tear the place down, busting out a medley of all the classic dance moves, which she demonstrated with fervor. Mashed Potato, Twist, you name it, she busted it – without missing a vocal beat. "Can I get a hot tub, good God?!?" Warren Haynes followed with the debut of his latest collective, The Warren Haynes Band. His standout saxophonist (Ron Holloway) and powerful vocalist (Alfreda Gerald), melded well with Warren's more rootsy, R&B approach. Warren is always amazing, whether it be with Govt. Mule, Allmans, or this new project.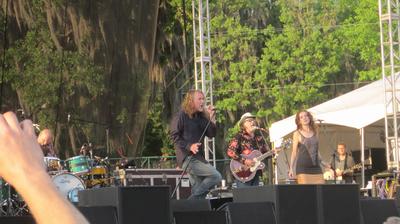 Co-headliner, Robert Plant appeared just as twilight set in with a rising moon and glorious weather. Plant took notice, commenting "Nice to see smiling faces! I usually play in the dark, but to see this crowd and this place – " Black Dog" opened the set albeit to a softer, Band of Joy-ish delivery. Plant knows why many came to see him and he didn't disappoint by peppering his set with Zeppelin tunes, including "Hey, Hey Mama," "Gallows Pole," "Rock & Roll," "Houses of the Holy," and "Ramble On" for an encore. He even threw in solo hit "In the Mood" for good measure. However, Band of Joy originals were featured with an almost gospel feel – "Satan Your Kingdom Must Come Down" and "Angel Dance," among others from the band's debut. Plant shared the stage as band mates Patty Griffin, Darrell Scott, and Buddy Miller got to showcase their individual talents, demonstrating why their Americana-based sound was Grammy-nominated.
If the night needed any more heating, The Allman Brothers burst onto the stage with "Hot-lanta" and proceeded to rip in to the first of their two, two and a half hour shows. Although Gregg just finished a solo project, it's nice to see he never abandons the Beacon shows in NYC or the oak-draped stage at Wanee. The packed field was treated to Warren and Derek trading licks, jamming with Kofi Burbridge, Ron Holloway, and Luther Dickinson/Roosevelt Carter who joined for an encore of "One Way Out." However, when Gregg emerged from behind the organ with an acoustic guitar to take center stage for "Melissa," the crowd quieted and listened with deserved awe. Former Dead percussionist Bill Kreutzmann and his 7 Walkers followed at midnight for, as Kreutzmann calls it, a "swampadelic" good time! With the mighty Papa Mali at the helm, 7 Walkers kept the party alive with cuts from their self-titled record and even a couple Bob Dylan covers.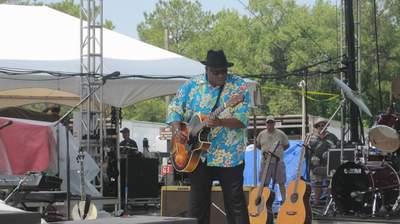 As Saturday rolled around, so did the threat of storms from a massive front that slammed the Southeast. Fortunately the Wanee gods smiled, and save for a passing rain and a few hours of wind, we were spared for a last beautiful day and night of music. Blues legend Guitar Shorty was about the only act to have a set shortened due to weather. It didn't stop him from unleashing some blistering riffs and mingling in the crowd for some up-close and personal jams. Speaking of legends, and I have been all weekend, Taj Mahal certainly fits the bill as an icon whose career-span rivals Wanda Jackson and has been a undeniable influence on The Allman Brothers. Mahal's Wanee set was steeped more in the Delta blues style as he paid homage to Robert Johnson on his 100th anniversary. Taj also paid tribute to another fave – food. Pickin' and singing about watermelon, cornbread, etc., it was hard to have the blues listening to this amazing musician!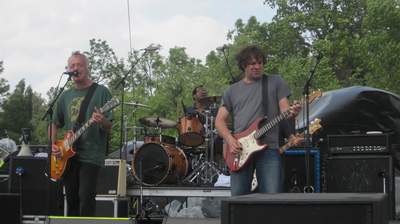 One of my personal faves, Ween, has been on a bit of a hiatus of late and only played limited shows this year. With great anticipation, I sat back to let Gene and Dean open their parallel universe long enough for us to visit and enjoy. The classic "Pork Roll Egg & Cheese" opened up the madness, with a set that pulled from several albums. An always twisted "Spinal Meningitis" led into "Bananas & Blow," "Your Party," and "Roses for Free." They didn't forget "Richard Smoker" or Dean's instrumental "Tears for Eddie," but I was stoked to hear yet another Ween cover song! Today's feature: David Bowie's "Let's Dance." Gene's mock British delivery was all-time and the song freakin' rocked to boot!
Derek Trucks and Susan Tedeschi took to the main stage this year. Normally occupying a midnight slot, the Tedeschi Trucks Band was prime to be seen in support of their upcoming album, Revelator. While most songs were originals, highlighting Susan's vocals and/or Derek's leads, Stevie Wonder got a nod with "Uptight." Steve Miller has come back to the forefront once again, this time in support of a blues album entitled Bingo!. Similar to Plant, Miller's career and catalog is so iconic he can't turn his back on the songs that got him to his "now" sound. Opening with "Jetairliner" and transitioning to a more bluesy tone, Miller and co. have taken a traditional recipe, added a few ingredients, and the result is tasty and sounds great live. Miller even stated his blues were gonna get so nasty they would bring the snakes out of the swamp. Also akin to Plant, Miller sounds great solo, yet has surrounded himself with top-notch musicians. Yes, Steve played "Fly Like an Eagle" and "The Joker!" He encored with an oldie, "Space Cowboy" and concluded with a crowd sing-along of "Jungle Love." Incidentally, Miller will soon be touring with Gregg Allman on his Low Country Blues Tour.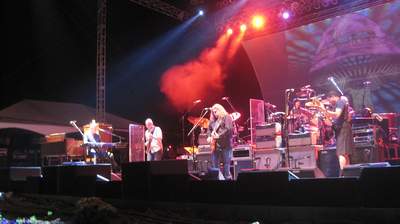 We are now primed and ready for the main event – the Saturday night Allman Brothers show! A plethora of guests joined in; at times it was hard to extrapolate the personnel. "You Don't Love Me" featured Bruce Katz on keyboard, Taj Mahal lent vocals to "Leavin Trunk" and harmonica on "Statesboro Blues." "Mountain Song" saw a packed stage playing as if they had rehearsed for months. Yet in reality, an impromptu jam with stellar musicians. A tribute to Blind Willie and an awesome cover of Van Morrison's "Into the Mystic" climaxed into "Whipping Post," with tens of thousands singing, dancing, or both. Jaimoe (drummer) had dedicated the show to "Red Dog" Campbell, who I later found out was an Allman "brother" and roadie who recently passed away.
Still reeling from a day of music that would otherwise take years to accumulate, I had one more aural uppercut – this time from Galactic. Having seen Galactic numerous times, I am always amazed at the raw energy and complete musicianship they bring every time, and the funk never fails them. Always evolving, the Houseman's departure made way for Living Colour frontman Corey Glover (no neon wetsuit), and his funky hip-hop vocals. They gave a nod to Zep with "How Many More Times" amongst the free-form jams. Also featured was young blood Trombone Shorty, a true prodigy who's cutting his teeth with the big boys. Shorty even freestyled some smooth raps – kid's got game!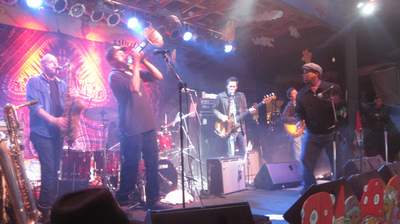 The party light burned all throughout the last night, as random instruments, whoops, fireworks, and general revelry gave way to the reality of dawn and Wanee's conclusion. One sad reality is for all the amazing music I saw, there were nearly as many artists/bands I was unable to enjoy due to simultaneous staging. Dead Confederate, Big Gigantic, Particle, Keller Williams, Toubab Krewe, Rusted Root, and Hot Tuna, just to name a few. I was able to witness some "pieces," like Devon Allman's Honeytribe take on Prince's "Purple Rain" and the Dirty Dozen Brass Band pack the Mushroom stage with about every instrument imaginable. Props go out to the Bobby Lee Rogers Trio who started each day of the festival with a set at 10:30am.
Although nothing is perfect when entertaining the masses, the facilities were kept in check, camping was great, bands were on time, and the vibe was truly one of brotherhood and camaraderie. Once again, Wanee worked its magic, and for those days we were joyously under her spell.
Wanee Festival: http://waneefestival.com
---