Chicago
Hard Rock Live, Orlando, FL • April 19, 2011
Christopher Long
As an old-school pop/rock aficionado reviewing a recent onslaught of modern-day, heavy metal vomit fests, I'd been looking forward to this particular show with great anticipation. Despite some slight cloud cover and a few intermittent sprinkles, this was an overall fabulous springtime Florida day, and the experience only got better from there. My girlfriend and I arrived at will call and quickly discovered that the envelope containing our press passes seemed a bit thicker than usual. Bingo – two tickets and two after-show cloth stickies! Upon entering the venue, I was equally delighted to learn that the typically standing-room only main floor of Orlando's Hard Rock Live had been modified for the night, offering us old timers comfortable, reserved seating. This revelation became especially awesome once our buff young usher, sporting a tight-fitting staff T-shirt, guided us to our fifth row, center seats!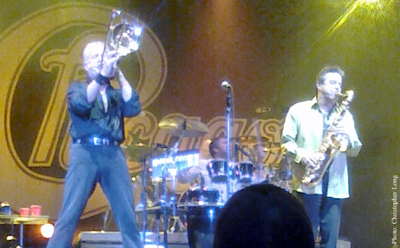 With no disposable, mind-numbing opening act to mar the evening, Chicago took the stage. As the band kicked off the set with their classic "Make Me Smile," I realized that our seats were so close that we could hear the actual raw sound of their legendary horn section directly off the stage. It also occurred to me immediately what a truly amazing live band they are. Oh sure, I'd been a Chicago fan since I was a kid growing up with AM radio in the early '70s, but to see them live, this close – fugidabowdit! Even after an unbelievable forty-four-year run, this band is still full of energy. In fact, co-founder and trombonist James Pankow delivered such a passionate, on-fire performance, I often found myself out of breath just watching him. Simply put, they looked and sounded great, and as expected their musicianship was impeccable.
Along with Pankow, co-founders Robert Lamm, Lee Loughnane, and Walt Parazaider led longtime members bassist Jason Scheff, drummer Tris Imboden, guitarist Keith Howland, and newer recruits, keyboardist Lou Pardini and percussionist Drew Hester, through a career-spanning, non-stop smorgasbord of crowd pleasers. With a catalog of hits as expansive as Chicago's, fans would have to expect them to miss at least a couple of personal faves (No "Harry Truman?" CRAP!), but they did do a pretty darn good job of including most of the must-play biggies in the two-hour set. And for me, as long as that included "Call On Me," "Old Days," "(I've Been) Searchin' So Long" and "Just You 'n' Me" (which it did), I was more than satisfied!
Also impressive was the unique connection the band had with the fans, as various members engaged in personable in-between-song banter with the audience throughout the show. At one point, Lamm apprised the Orlando crowd of Chicago's continued involvement with The American Cancer Society. One of their recent related efforts is an online promotion where fans in the various cities on the current tour can bid on the opportunity to join the band onstage to sing "If You Leave Me Now" – with proceeds benefiting The American Cancer Society. And on this particular night, twenty-seven-year-old Orlando resident Candice Casey provided vocals to the 1976 chart-topper.
As for the after-show experience, the guest list was minimal (about a dozen fans) and the backstage atmosphere was subdued. Huh? No stripper stories or tales of decadent rock star behavior? Sorry to disappoint ya, kids. The band members appeared as cordial, personable, and down-to-earth offstage as they were onstage – truly a class act!
Chicago: http://www.chicagotheband.com ◼
---