Anna Calvi
The Crocodile, Seattle, WA • June 1, 2011
Steve Stav
At any point during an Anna Calvi performance, it seems as if you could close the eyes and be whisked away to a Ravel-tinted, David Lynch fantasy… with reverb.
However, this would be impossible to do, as you can't take your peepers off of this UK sensation.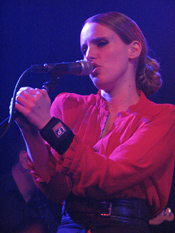 For a year now, critics have stumbled over themselves in describing Calvi, likening her to Patti Smith, Siouxsie Sioux and a dozen other estrogen-powered predecessors – Edith Piaf, even. Spend five minutes on YouTube, and you'll agree that Calvi is indeed a multi-influenced and multi-faceted performer.
Pondering one of those riveting clips is one thing, seeing and absorbing a live Calvi performance is quite another. Once this fiery musician steps up to the microphone, all of the hype and comparisons and speculations dissolve. You're in the moment… and in that moment, you're witnessing a very beautiful woman with an amazing vocal range, a half-Italian Briton with a battered Telecaster passionately singing and playing gorgeous, haunting music as if the world is ending come sunrise.
It's as simple, and as surreal, as that.
Exquisitely dressed in black toreador pants and a red blouse that were probably not acquired from a rack, Calvi stepped to the Crocodile's microphone and began to play an instrumental warm-up of sorts, solo. It quickly became apparent that the guitar isn't for show… she's very good; Calvi's no Andres Segovia or Dick Dale, but it wouldn't be a surprise to learn that she has either, or both, on the tour bus stereo.
And then she began to sing. The vivid tracks on her debut album found even more life, as Calvi's face strained and contorted with the jaw-dropping force somehow being expelled from the singer's petite frame. Soaring highs and admittedly Sioux-like, sultry lows. And one could hear it all; in quiet passages, all that was heard from the crowd was the clicking of camera shutters.
While Calvi proved in minutes that she requires no mixing-board effects, she doesn't run full-steam as many of the modern divas seem to do, either. Sultry songs like "I'll Be Your Man" and "Moulinette" dripped off the stage, revealing Calvi's power and range without the distraction of showing off – a rocker's attitude with a classical, almost operatic sense.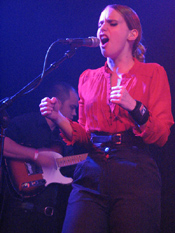 There was very little spoken between numbers. When she wasn't singing, Calvi had a demeanor that bordered on shy; thank-you's were almost whispered.
Calvi was accompanied by her unusual rhythm section, one that commanded the ears' attention while the eyes were focused elsewhere. The singer's Telecaster danced upon a rich wall of sound generated by Mally Harpaz' super-cool harmonium and bass pedal; her peripheral chimes and floor tom added to Daniel Maiden-Wood's percussion. The results cannot be understated. At times it felt as if you were in an intimate Parisian cabaret; other moments – during "Desire" or "First We Kiss," for example – suggested that a Spaghetti-Western studio orchestra had crashed the cabaret. An aural magic trick, indeed.
Ten minutes or so into the night, Calvi glanced at the bandage on her left wrist and said that she had recently suffered an injury. After her Siren-call single, "Blackout," she handed her guitar to Scott Wheeler (frontman for stellar openers Cuckoo Chaos), who spelled her for a couple of songs. Gripping the microphone only added more presence and drama, it seemed, to "Suzanne and I."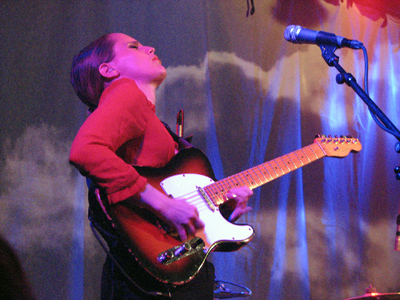 The mesmerist sang and played for about an hour or so; perhaps the performance was shortened due to her wrist, perhaps it was merely Calvi's normal dose of love and sex and longing. She closed with a cover of "Jezebel" that rocked even more than Reverend Horton Heat's version; Edith Piaf certainly would've never recognized it. Then Calvi, with another demure smile, said "Goodnight." After she stepped into the shadows, the room returned to this dimension. It was as if an epic film had ended, with the theater lights snapping one back to reality.
Though Calvi has been playing sold-out shows and appearing on television in the UK and Europe, on this Wednesday night in Seattle, one could almost maneuver a Vespa through the audience. No matter; those intuitive and lucky enough to show up for this event will be able to say, in a year or a few months, "I saw her when…"
Anna Calvi: http://www.annacalvi.com ◼
---