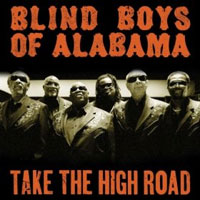 Blind Boys of Alabama
Take The High Road
Saguaro Road Records
I first heard about the Blind Boys of Alabama in a history of country music, and was pleasantly surprised to find them still in business. The group formed in 1939 and most of the founders are now departed, but they left an amazing discography of somewhere north of 50 discs. After 40 years on the Chitlin' Circuit, they were finally recognized with six Grammys in the new century.
This collection mixes the Blind Boys leading on "Take the High Road" and "Jesus Hold My Hand." Other tracks place them backing up the usual cast of hot Nashville hands. Willie Nelson handles "Family Bible" with a fiddle and harmonica, Vince Gill joins in on "Can You Give Me a Drink?" and Hank Williams Jr. jumps on "I Saw the Light." Just to be clear, Mr. Gill was looking for water from the Samaritan Woman, not whiskey from Willie.
The Blind Boys sing in a rough, husky sound, and while they've been at this since your daddy was born, the roughness may be calculated, but it's what you want to hear on authentic southern blues. Gasps of air break the lines in "High Road" but are absent on "Bridge to Heaven" – these sinners fit their vocal tricks to the song at hand and that keeps them interesting. I like the cuts without star power the best. While Willie and Hank 2 and the rest are undisputed stars, they bring that modern rock crossover sound and a slick production style that distracts. It's a more saleable, radio-friendly sound, and it diminishes the impact of blues singers who have lived the life and stood the decades of abuse and rejection. Looks like I'll have to start picking up their back catalog; I want to hear what these guys sounded like on scratchy postwar vinyl.
Saguaro Road: http://www.saguaroroad.com • Blind Boys of Alabama: http://www.blindboys.com
---