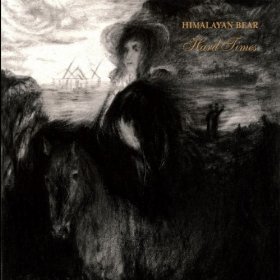 Himalayan Bear
Hard Times
Absolutely Kosher Records
A dark, mysterious cover and a dark, mysterious sound – Ryan Beattie (formerly of Chet and Frog Eyes) takes his music into an echoic world filled with reverb and tension.
In "The Caballo," his desperate cries for help go unanswered and pain drips from a guitar which remains his only friend in misery. "How Could Death Contend" sounds like a rockabilly band with the fun stripped out of it, leaving only a pedal steel guitar and a drummer to beat that saxophone to death. Beatty sounds like early Neil Young, and his dirge-like melodies do not cheer your disappointed heart. His songwriting goes into odd corners and tackles unexpected topics: "Half Wit Son" may be autobiographical or it may open a heartbreaking indie film destined to never leave the festival circuit. Like all good music about death and loss, you don't need a happy ending, and Beatty isn't about to dish one up. But we are drawn to depressing songs like "Hard Times" and "Only Dreams Let Me Hold You" not because they make us feel bad, but they make us FEEL.
Himalayan Bear isn't for everyone, just those of us who prefer our folk music dark and our country music deadly.
Himalayan Bear: http://himalayanbear.bandcamp.com
---