Hippiefest 2011
with Dave Mason, Mark Farner, Rick Derringer, Gary Wright and Felix Cavaliere
King Center for the Performing Arts, Melbourne, FL • August 25, 2011
Christopher Long
Approximately 1,500 enthusiasts braved the turbulent weather conditions caused by Hurricane Irene to attend one of the area's most talked about concert events of the summer: "Hippiefest 2011."
With its bright and colorful '60s-style flower-child-type art work, the promo posters for this multi-band affair were certainly eye-catching. However, the tour's name, "Hippiefest," was a bit of a misnomer. Oh sure, the lineage of each of the five artists can be traced back to the late 1960s. However, for the most part, they're likely best known to fans for their classic rock staples of the 1970s.
Taking the stage promptly at 7:30 pm, Felix Cavaliere was the one artist of the night whose claim to fame truly was during the "Summer of Love" era. The sixty-eight-year-old singer/songwriter, organist, and co-founder of the legendary "blue-eyed soul" group The Young Rascals wooed the King Center crowd with a mixture of his own hits such as "Groovin'" and "Good Lovin'" as well as medleys of various R&B classics from the likes of Sly and the Family Stone and The Righteous Brothers. Cavaliere's twenty-minute-plus opening set was met with one of the more thunderous receptions of the night.
In contrast to Cavaliere's non-stop cavalcade of high-energy hits, Rick Derringer's set seemed to flounder. The sixty-four-year-old "All-American Boy" opened with a rousing version of his longtime mainstay, "Still Alive and Well." Unfortunately, the energy level quickly took a nosedive as the bulk of Derringer's twenty-minute, four-song performance became dedicated to long-winded dissertations and ramblings regarding rock and roll state songs, a producer's last minute edit of his hit, "Hang On Sloopy" and a heartfelt water toast. However, the loquacious guitar hero managed to make a slight recovery, bringing the house down with his grand finale, the timeless classic, "Rock and Roll Hoochie Koo."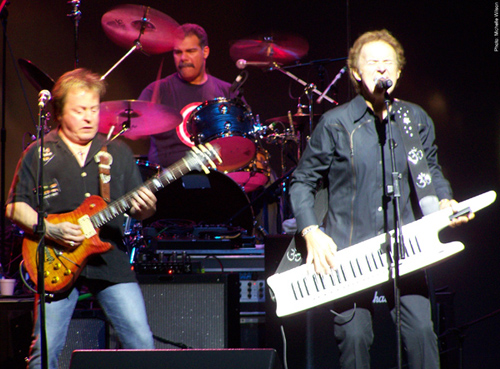 Also offering a four-song mini set, Gary Wright provided a lot more rock and a lot less talk than Derringer. The sixty-eight-year-old singer/songwriter and keyboardist knocked out a pair of vintage numbers from his early band, Spooky Tooth, along with his two signature solo hits, "Dream Weaver" and "Love is Alive" – much to the delight of his adoring fans.
It ain't called show biz for nothing folks, and simply put, THE highlight of the evening was undeniably Mark Farner's thirty-five minute onslaught. Opening with his 1971 chartbuster "Footstompin' Music," the Grand Funk Railroad founder immediately went for the throat and never turned loose. With more youthful energy and sheer cock-rock style and swagger than most players half his age, the iconic sixty-two-year-old guitar god brought the crowd to their feet several times. In fact, the big mystery of the night was why on earth the most formidable performer on the show wasn't headlining. With his trademark (now graying) ponytail and dressed in skintight jeans, Affliction-style T-shirt, and with pecs to spare, Farner ripped through such additional Grand Funk fan favorites as "Some Kind of Wonderful," "Bad Time" and the epic show-closing, "Closer to Home." In short, he left the stage with nigh a dry seat in the house – proving that his former band likely needs him a lot more than he needs them!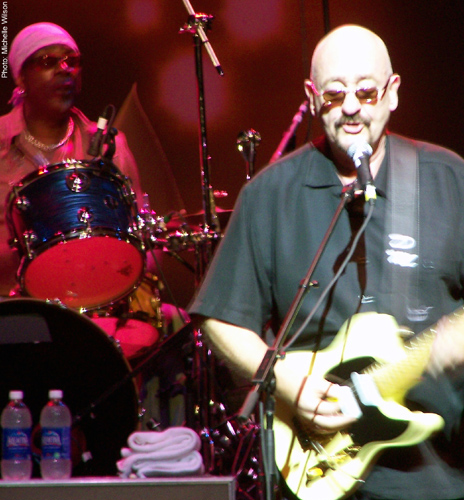 Despite his status as an acknowledged bona fide rock legend, Dave Mason's set was rather anti-climactic, following Mark Farner. But the sixty-five-year-old singer/songwriter/guitarist still delivered a solid thirty-minute set's worth of the cream of his '70s crop, including, "Feeling Alright," "Only You Know and I Know," "Let it Flow," and his monster 1977 Top Twenty hit, "We Just Disagree." Along the way, Mason did briefly dip into his '60s catalogue, offering the Traffic classic, "Dear Mr. Fantasy." And the crowd cheered with delight as Mason was joined onstage by Derringer and Farner for a powerful rendition of Jimi Hendrix's take on Bob Dylan's gem, "All Along the Watchtower."
One particularly impressive aspect of this production was that given the number of artists on the bill, down-time in-between sets was no longer than ten minutes. In fact, most of the same back-up musicians were shared among the all-star line-up, keeping the three-hour show moving along and maximizing the "more bang for your buck" factor. And the authentic, psychedelic onstage lightshow was pretty darn cool too.
Yeah, I suppose that "Hippiefest" was a snappy and clever name that easily grasped the attention of the Baby Boomer market. However, "Farnerfest" would have been more accurate. Just sayin'.
Hippiefest: http://www.hippiefest.net • Dave Mason: http://davemasonmusic.com • Mark Farner: http://www.markfarner.com • Rick Derringer: http://www.rickderringer.com • Gary Wright: http://www.thedreamweaver.com ◼
---