Erasure
with Frankmusik
House of Blues, Orlando, FL • September 2, 2011
Jen Cray
It's not every concert where the drunken, dancing fans in front of you keep turning around to make sure you have enough space, and that they're not blocking your view. It's also not every concert where the collective smell of the muscular audience members could be bottled up and sold as the hot new fragrance.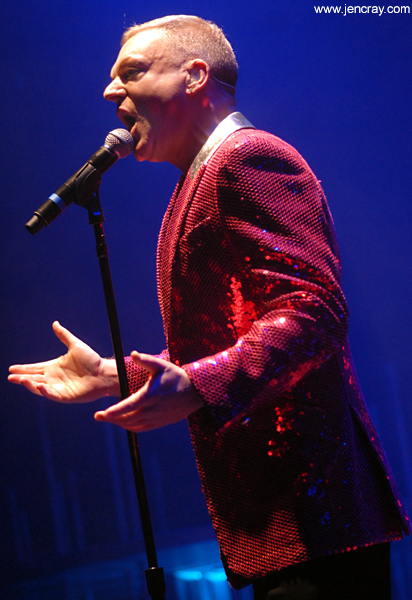 For these reasons, and others, Erasure is always a welcome addition to my concert calendar!
…their choice for openers, however, was not.
If 2,000 gay men aren't digging a young British singer whose set is nothing but remixed covers of pop songs past and present, then how am I supposed to enjoy it?! Frankmusik, who produced Erasure's soon-to-be-released 14th album Tomorrow's World, was one of the biggest wastes of an opening act I've ever seen. Backed by a drummer and a backing vocalist/keyboard player who, suspiciously, never seemed to move her hands, the peppy singer ran through samples of everything from Paul Simon's "You Can Call Me Al" to random Whitney Houston hits. And when he wasn't covering other artists, he was killing us with repetitive choruses like "No bueno/ no bueno." The guy had a decent voice, but it was like watching some dude do karoake. Waste. Of. Time.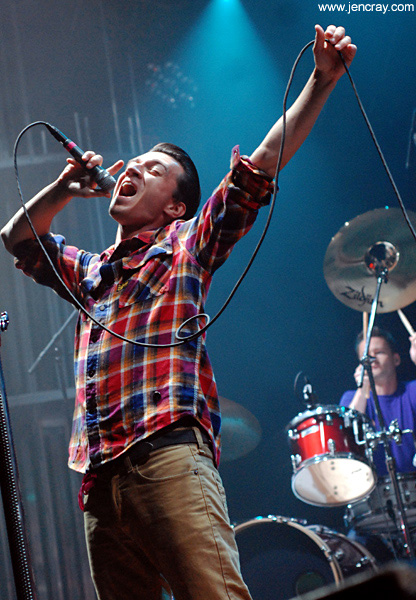 Other than the gargoyles and the towering headdress that singer Andy Bell was wearing for the opening number, the stage set for the famously flamboyant Erasure was remarkably modest. No angel wings or foil spaceship structures decorated this tour; Erasure circa 2011 is a touch more reserved… except for the pornographic Mickey and Minnie t-shirt that Bell dramatically squeezed into early on in the set! With music so infectiously fun and songs so famous that the opening notes of "A Little Respect" or "Drama!" can't help but send even the most grounded individual skipping down memory lane, I wonder if the Disney police even noticed, or cared.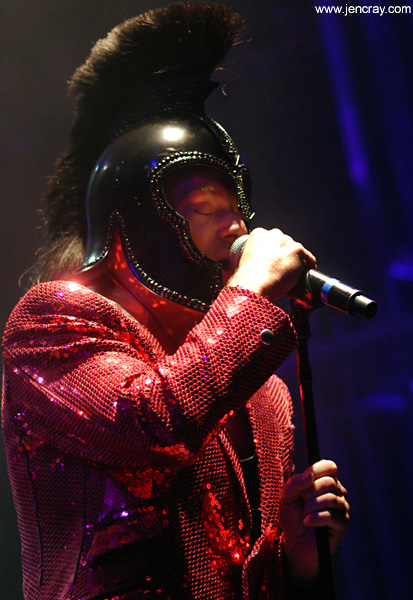 Vince Clarke, the musical mastermind behind the duo, doesn't do much onstage but stand coolly behind his laptop and queue up the magic like a digital wizard – save for the occasional moment when he picks up a guitar, but it somehow doesn't matter. Clarke is the anchor that keeps Bell from shuffling right off of the stage and into the dance party at his feet, like a little boy abandoning his schoolwork for another round of stickball. Along with a pair of fantastically dressed-up backup singers, he keeps the music moving right along and gives Bell the freedom to just be Andy Bell.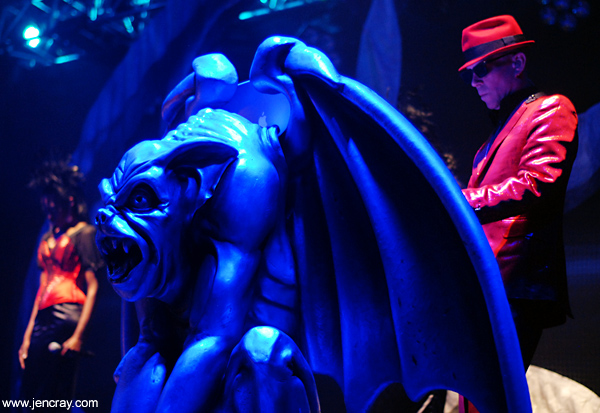 The new album hasn't officially hit the airwaves as of yet, but the new songs that colored the set were on par with 2005's exceptional effort Nightbird. At this point, they're merely anonymous ear candy without names to me, but at least they didn't send me off to snoozing in-between the hits. They fit snug right up alongside those whose lyrics we already know so well that, even half drunk, we all sing along.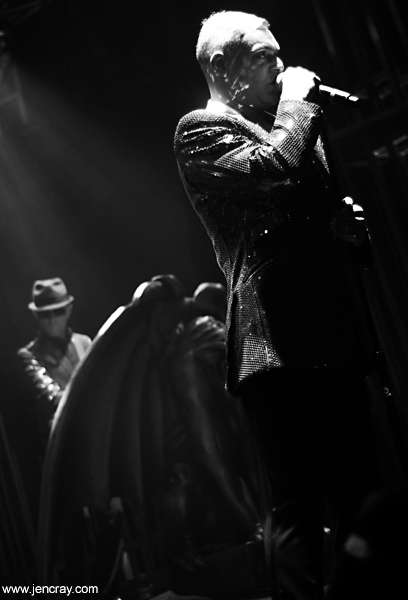 And of the pop hits, there were many: "Always," "Blue Savannah," "Chorus," "Love to Hate You." All the verses you've lusted, loved, and lost while listening to were aired, and not in a gratuitous manner, but with as fresh a sense of abandon as if it were 1987. The software that Clarke wields may have evolved over the years, but the soul of the music has not. It's still a dance party, and everyone's invited.
If there has been an evolution to Andy Bell over these many years – other than his surprisingly toned and tight physique – it's in the depths of his vocal chords. He still continues to smash any preconceptions about the supposed simplicity of a synth pop band, alternately licking or ripping the paint right off of the walls with his enviable vocal range. These two could be writing and performing operas if they so desired, but have instead decided to throw their sequined jackets into the dancehalls of the world.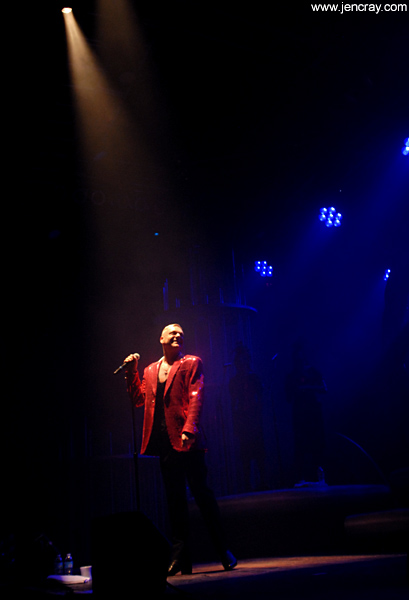 Electronically enhanced dance music – especially that time-traveled from the romanticized era of neon colored clothing, leg warmers, and excessive amounts of hairspray – is as timeless as the Saturday morning hangover. While the tourists outside of the House of Blues trampled their way from one attraction to the next in search of something spectacular, a couple-thousand strangers found their groove with a little help from a couple of English boys who never seem to age.
Gallery of live shots from this show: Erasure .
Erasure: http://www.erasureinfo.com ◼
---