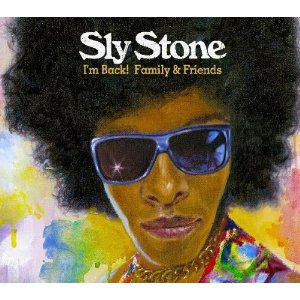 Sly Stone
I'm Back! Family & Friends
Cleopatra Records
Any day that Sly Stone is this side of the earth is a good day for music lovers. For many years, that was a touch-and-go affair. So when he returned with the first new music in two decades, I was pumped. But what we got is half a loaf, at best.
First off, eight of the 14 cuts are re-makes of his greatest hits, either extended dance mixes, or with guest performers. Jeff Beck is pretty good for the 30 seconds he plays on "(I Want to Take You) Higher", and Bootsy Collins is funk personified on "Hot Fun In the Summertime" but the rest? Ray Manzarek? Ann Wilson? Who cares? I mean, no George Clinton? Prince? Or better yet, Rage Against The Machine? Can you imagine them on "Don't Call Me Nigger, Whitey"? The place would melt down. Now, the remaining three songs, well, they seem to be placeholders, not much about them to get excited about. You think they'd be better after 20 years!
I bet that Sly has a great record deep within him, if he can only get out of his way and stop actin' the fool. But I'm Back!? Not yet.
Sly Stone: http://www.slystonemusic.com
---