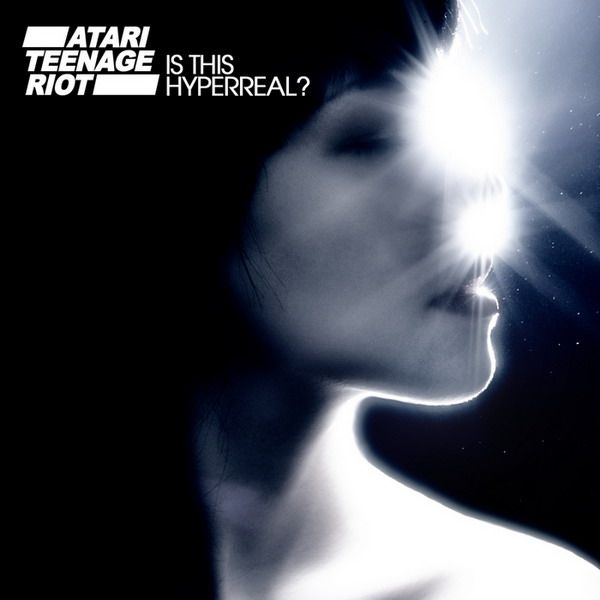 Atari Teenage Riot
with Otto von Schirach, Yip-Yip, and Unit Shifters
Firestone Live, Orlando, FL • September 14, 2011
Eric Donath
Firestone Live was unpacked for Atari Teenage Riot, and the show didn't start quite on time. There was a festival, or some kind of cookout, going on out back that was winding down with a couple of bands that weren't what I was after. No trouble finding free parking, no line to get in, no hassle at the door, and no wait to get a beer – it wasn't what I expected.
The opening band was a local group of rockers called Unit Shifters. They played rock 'n' roll, which didn't especially fit the bill, but they were talented and enthusiastic while entertaining a couple dozen fans huddled near the stage. They played some songs I didn't know and Queens of the Stone Age's "Feel Good Hit of the Summer." The relatively small crowd was mostly friendly, but I took issue with their lead singer bragging about playing real instruments and claiming there wasn't a synthesizer on stage. What a bunch of bullshit! There were probably a couple of dozen synths right behind them, already set up for the tour's main lineup. Liar.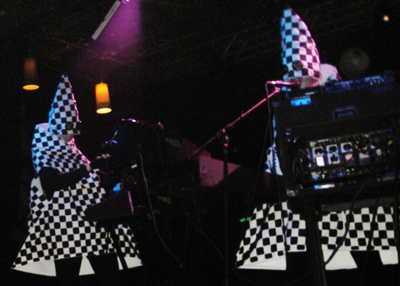 Next up was Orlando's own Yip-Yip. For anyone that thinks all electronic music sounds the same, Yip-Yip is an obvious retort. Their music is dense with lo-bit video-game sounds, sure, but compositionally speaking they are more reminiscent of They Might Be Giants than a techno DJ.
Their short set</a> was unrelenting, transitioning from one arrangement to the next without pause. I could barely understand a word they were saying, which was a shame because I missed all the silliness I'm sure they were spouting. Dressed in checkerboard cone hats and matching tent-shaped robes, their costumes were as fun as their upbeat live PA performance. Also, they were selling tapes – actual cassette tapes – at the merch table, which was quite retro-classy of them. If I still had one of those devices that converts spooled mylar into sound I would have bought one in an instant. Anyway, stay classy, Yip-Yip, you were great!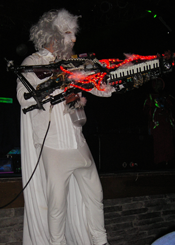 Otto von Schirach, Miami Bass Warriors producer and Skinny Puppy cohort, came on next and metaphorically vomited sexy sauce and cheese whiz all over the growing crowd. Or maybe that's just how I remember it. It was a fantastic mix of dubstep, Miami Bass, breakbeat, and old-school techno. From "Everybody Dance Now" to "I am a rainbow; you are a unicorn," their samples were all over the map, and the bass was true to their So-Flo swamp-roots. They were a lot harder than Yip-Yip, and their much more elaborate costumes reflected that. With characters like Mr. Feathers and the Crack Monster on board, it really doesn't do the group justice to write about them. It would probably work better if you flew through the Bermuda Triangle and activated a time-portal to their secret lair. Just don't show up without a futuristic ray-gun: you wouldn't want to be around these freaks without a musical instrument. While Unit Shifters didn't exactly fit and Yip-Yip was fun and silly, Otto von Schirach was in your face and the perfect heater for ATR.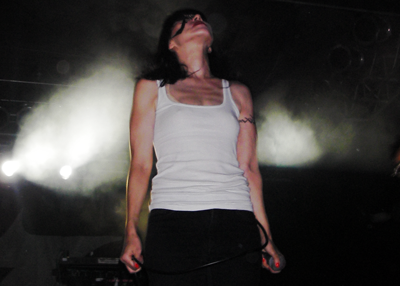 Alec Empire came on stage and brought the riot after a short recorded teaser of Atari Teenage Riot beats. Nic Endo, the group's forceful, feminine voice was front and center. CX Kidtronik rounded out the trio performance with a serrated edge. There is no denying the energy that this group brings, and their chanty lyrics are irrevocable.
ARE YOU READY!?!? INTO THE DEATH! ATARI TEENAGE RIOT! SICK TO DEATH! BURN, BERLIN, BURN! WE'RE GONNA SMASH THEM IN!
Atari Teenage Riot is hard punk techno, driving like a bat out of hell into the system aiming to tear it apart with raw teeth. The group is politically charged, calling themselves Anonymous Teenage Riot several times throughout the show, in clear reference to the subversive internet activists collectively know as Anonymous. I wouldn't feel right writing this review without sharing the message they came to deliver: "I've got a message to all governments – you're all murderers and we're sick of your fucking lies!" Alec's shirt offered something a little more actionable: keep the Internet free from government control.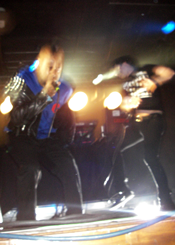 As an anti-establishment musical force since 1992, the current volatility of the global-political climate sets the grand stage for Atari Teenage Riot's relevance. With thundering beats pounding at three times faster than a human heartbeat, a message that screams (and screams) for the people, with fists in the air, the show was exactly what the crowd came to hear. They didn't have fancy costumes, the lighting was fast and simple, and the message was loud and clear. It is just a shame that there weren't more people there for the riot.
Atari Teenage Riot: http://www.atari-teenage-riot.com ◼
---