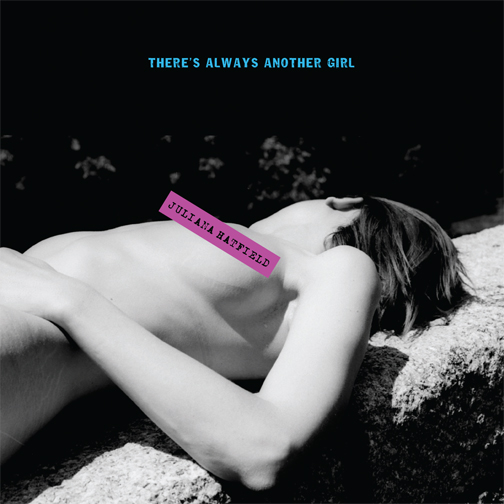 Juliana Hatfield
There's Always Another Girl
Ye Olde Records
Juliana Hatfield calmly sings in the opening track of her new album, "I was gonna change my ways/ but I have not changed/ I'm still the same." No kidding. It's 2011, not 1991. Twenty years ago was a different story for the then-fresh-faced good girl of indie rock. Juliana was ending her first band, the Blake Babies, and just about to release her debut solo album. The early '90s were good to Juliana. But then again, a lot of newly-minted "alternative" artists enjoyed some success during that time. Most of them faded from the limelight by mid-decade and were long forgotten by the start of the millennium. Juliana's career followed the same trajectory.
The difference between a lot of these alt-rockers and Juliana Hatfield is that they stopped releasing music after their heyday. She hasn't. The indie stalwart hinted several times during the promotion of her expensively-produced self-released 2008 album that she was strongly considering "retiring from music" – especially if it didn't do well. Hell, she even called the record How to Walk Away. That was two albums ago. Talk about a fake out. But it's likely not intentional. Juliana explains that she still feels a "compulsion" (her words) to release music even though she's not really making any money off it. In fact, Juliana took a big hit on How to Walk Away. It sold less than 10,000 copies. Ouch.
So how does a broke artist create an album these days? The answer is PledgeMusic, an online fan-funded music platform. Fans literally pay an artist to create music. In exchange, the artist gives fans behind-the-scenes access through every step of the process and adds extra incentives to those contributing a certain amount. For example, Juliana sold several of her paintings for $300 to $400 each. She received nearly 1,200 pledges.
It's unlikely that the aptly titled There's Always Another Girl will appeal to anyone beyond Juliana's fan base. Don't misunderstand; There's Always Another Girl is not a bad album, not by any stretch. In fact, the 14 mellow, alt-country-ish tracks are soothing. However, the album is not radically different from anything else in her 25-year career.
The lyrics cover familiar ground with Juliana's trademark soft spot for people at the margins: the misfits, the outcasts, the loners. Interestingly, the title track is about former "It" girl Lindsay Lohan with the opening lines, "people love it when a beautiful woman self-destructs." (Um, nooooo. People love it when over-entitled starlets pigging out on ego and drugs self-destruct.) Exploring the double standard that exists between male and female celebrities is worthy. Unfortunately, the somber acoustic strumming of "There's Always Another Girl" accompanies whiny lyrics that don't articulate the point. And neither does the sparse "Sex and Drugs," which, ironically, is the most boring track on the album.
There's Always Another Girl makes up for those lapses with interesting extended metaphors out of seemingly simple songs. Is the rollicking "Taxicab" with Sesame Street-worthy lyrics, like "pink hearts and green rivers/ orange cones and red deserts/ black birds and white snow" really about being in a fast-moving cab? Perhaps. Or, it could be about having reservations about a chosen course of action. What about the synth pop of "Candy Wrappers"? The cringe-worthy chorus "candy wrappers/ all over the hotel room floor" is actually a neat allegory for sublimation. It's not the best song on the album (the heartbreakingly beautiful "Stray Kids" is), but Juliana included a slower version with "And Again." That title succinctly describes There's Always Another Girl for those not part of Juliana's devoted fan base.
Juliana Hatfield: http://www.julianahatfield.com
---