The Collector's Guide to Heavy Metal Volume Four: The '00s
by Martin Popoff and David Perri
CG Publishing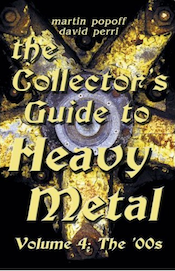 Expansive and exhaustive are the two words that first come to mind when describing this, the fourth and most recent installment of author Martin Popoff's encyclopedia-like headbanger's history series.
Clocking in at just under six-hundred pages and offering cover-to-cover microscopic-sized text to boot, Popoff and co-author Perri have created a painstakingly thorough account of the last ten years in heavy rock.
Need the lowdown on any of Eldolon's four recent classics? Or how about the 411 on Nagifar's three post-'90s smash releases? Well, they're all accounted for here. And who knew Richie Kotzen had produced such an impressive string of post-Poison records? But the award for the "Hardest Working Man in Show Biz" could well go to Deep Purple alumnus Glenn Hughes (not be confused with the late Village People "leatherman" character of the same name). This true rock soldier has issued an amazing eleven records throughout just the last decade – and they're all chronicled in great detail.
The two authors' differing positions make for a balanced presentation and lend more credibility to their commentary. While Perri's expertise lays more with Nü-metal kingpins, Popoff is an acknowledged authority on classic-style, old school, hard rock acts. His reviews of both New York Dolls releases during the era are spot-on and his description of recent ZZ Top remixes as being "sacrilege," "horrendous," and "unlistenable" were hilariously insightful.
Popoff and Perri are no "posers." The passion these authors have for the music is evident. In fact, it's as obvious as the "X" on Rob Zombie's forehead. They're experts in the field, and you can take their observations and opinions to the bank.
Simply put, this is THE definitive, second-to-none, must-have "Bible" for enthusiasts of the recent heavy music scene and the accompanying The Metal Blade compilation CD adds a nice touch too, dude.
Apogee: http://www.apogeebooks.com
---