Tabloid
directed by Errol Morris
starring Joyce McKinney
Sundance Selects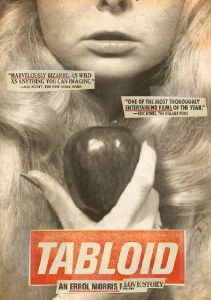 "He said, she said," and then the tabloids got a hold of the negatives – that's no way to lead a love life, but it's the path Joyce McKinney took. Joyce was a hot party girl bred in North Carolina and perfectly suited to the swinging L.A. sex scene of the early '70s. Her services were advertised in the Hollywood Free Press, her specialties were nude modeling, light bondage, and blow jobs, and she met and became obsessed with a clean-cut Mormon boy. Maybe she loved him, maybe not, but when he disappeared and went to England as a missionary, she pulled together a "B" team and set out to liberate her lover. Unfortunately the fake gun, chloroform, and chains could be interpreted as a kidnapping, and soon Scotland Yard was on her tail. After the arrest, the Mirror and the Daily Express sent out their spies and picked up her old nude photos and made her the talk of the UK. sex sells papers, and it's surprising she never ended up in the heavy duty porn industry. And where is she now? Like all sex symbols, her youth was given to men, and now she spends her time with old dogs she trusts.
This rather unsatisfactory documentary opens more questions than it answers. Most of Joyce's statements go unchallenged by the director, and several key players were unavailable or refused to comment. This is a Joyce-centric story – she's innocent, everyone has an agenda, and all she wants is love, sweet love. Joyce denies any of her early sex work, although there seems to be plenty of pictures, and we get a long and winding discussion about her dogs, one of which nearly killed her. She claims complete chastity since the jail term but I'm a bit skeptical as she did her level best to make herself a pop star with few talents that a family audience could view. Perhaps Joyce said it best herself: "If you tell a lie often enough, it becomes the truth." Here's proof in glorious 1970s faded color.
The best scenes are the interviews with the tabloid guys, Kent Gavin and Peter Tory. Both seem completely unapologetic about their actions and how they were duped by Joyce, and they appear as bad boys who would set off stink bombs at a church dinner just to see the reaction. Considering this a documentary with any integrity is a like considering the Weekly World News equivalent to the New York Times, but that's not necessarily bad – think of the first time you found you dad's "special" magazines. There's a lurid joy in watching this, and don't tell me you never peek just a little bit in the checkout line at Publix.
Sundance Selects: http://www.sundanceselects.com • Tabloid: https://www.facebook.com/TabloidFilm
---