The Barber of Seville by Gioachino Rossini
directed by Stefano Vizioli
starring Dmitri Korchak, Bruno Particò, Ketevan Kemoklidze
Emerging Films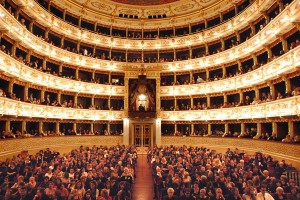 Down in old Seville, the tenor (Count Almaviva, Dmitri Korchak) falls in love with the contralto (Rosina, Ketevan Kemoklidze). Nothing wrong with that, she's flattered by the attention of the guy with an eight-piece band who sings to her every morning. But he's forgotten the bass (Dr. Bartolo, Bruno Particò). He may be bloated, old, and smells funny, but he's Rosina's guardian and he has plans to marry her by the end of the second act. It will take more than a soprano (Berta, Natalia Roman) to unwrap this mess; only a fully fledged, fifth business-trained scoundrel like the baritone Figaro (Prato) can outwit the doctor, steal his keys, seduce his housekeeper, and climb an impossibly tall ladder to bring this romance to its opera buffa happy ending.
If you learned your opera from Bugs Bunny, this would be The Rabbit of Seville. You're older now, and it's time you took a look at the original. The plot is respectable if not innovative – Rossini offers up a straightforward romance with stock complications, and while the resolution follows pro forma lines, there are some noteworthy songs beginning with Figaro's "Largo Factotum." Here he celebrates the joys of barbering, which only rarely involve trimming hair. Figaro does a bit of everything from personal grooming to marriage brokering, all for a fee. Prato's Figaro is suitable rotund, goofy and devious, and if you can't engage with him the whole opera falters. While Rosina is sexy and available, she's not too bright; the last minute complication where the poor Lindoro reveals himself as Almaviva seems a bit forced, and while I like him on stage, he seems like a genial ass with a knack for singing. The tragedy at the heart of this comedy is Dr. Bartolo; while he's no prize and a rather icky choice for Rosina, he ends the opera sad and alone, even after his pitiful aria.
All of this singing takes place on an enormous stage with a two-story mobile set that transforms from the street outside Bartolo's house to the book-filled library. An oversized china cabinet tips, platoons of solders stomp around on the few occasions we need a chorus, and the lighting tends toward the dark and moody – even on the street at daylight we have dark corners. Down in the orchestra pit we see the amazingly youthful conductor Andre Battistoni – he's a joy to watch, even if his hair looks like it was styled for a 1980s synth band. I suspect watching opera on film isn't as exciting as seeing it in a proper opera house, but the view at the Enzian is clear and the food isn't bad, even if the AC is set on Nanook. But the best part of the show is its timing: While this is a three-hour-long show, it starts early and you're out in time to do a few afternoon chores.
Opera in Cinema: http://www.operaincinema.com • Enzian Theatre: http://www.enzian.org