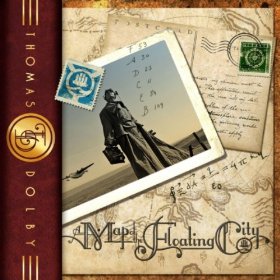 Thomas Dolby
A Map of the Floating City
Lost Toy People Records
Thomas Dolby is back from a Silicon Valley career designing annoying ringtones, and offers up an eclectic concept album filled with high profile guest musicians. Dolby easily mixes the newest recording technology with a musical concept I've rarely seen work well, but pulls it off as well as anyone. He's split his songs into three oddly named sections, but they do follow some sort of a thematic thread. In "Urbanoia," Dolby explores his aversion to city life with the blue note love song "Jealous Thing Called Love," the quirky "Evil Twin Brother," and the electro sounding "Spice Train." "Spice Train" strays farthest from Dolby's recent work but is my favorite song – it has clubby electronics but never loses its pop music sensibility.
The English and the Americans have always held a mutual fascination for each other's culture; I once had a Brit co-worker ask me "How do you get your head around this place?" I don't even try, but Dolby tackles it in "Amerikana." The "k " is a bit of cultural baggage, but I'll set it aside for the Thelma and Louise themed "Road To Reno." The hillbilly-influenced "The Toad Lickers" isn't as good as the equivalent Southern Culture on The Skids take on the theme, and guns inhabit each of these songs as well as "17 Hills" and "Love Is a Loaded Pistol." Yes, many Americans have guns, but we do other things than just shoot at each other on weekends.
"Oceanea" returns Dolby to his winds swept North Sea bluffs where he has a recording studio in a remodeled 1930s life boat. It's a slow, mournful ballad with lonesome stringed instruments gently plunking in the background and an aura of melancholy lingering like salt breezes. Next, "Simone" takes a smooth Latin rhythm and describes a trip to the beach as airplanes buzz overhead. It's a bit sound effect heavy, plus there's a Theremin, but the ensemble is pleasant and demands a tall cool rum drink.
Along with the 12 tracks on this album, there's an online game tied to the album. The address is down below, and if you're into Farmville or Mafia Wars or any of the Zynga stuff, you might enjoy it. If you win, Mr. Dolby will give you a private concert which is cool, but not cool enough for me to compete. Happy gaming!
Thomas Dolby: http://www.thomasdolby.com • Floating City: http://floatingcity.com
---