House
directed by Nobuhiko Ôbayashi
starring Kimiko Ikegami, Yôko Minamida
Janus Films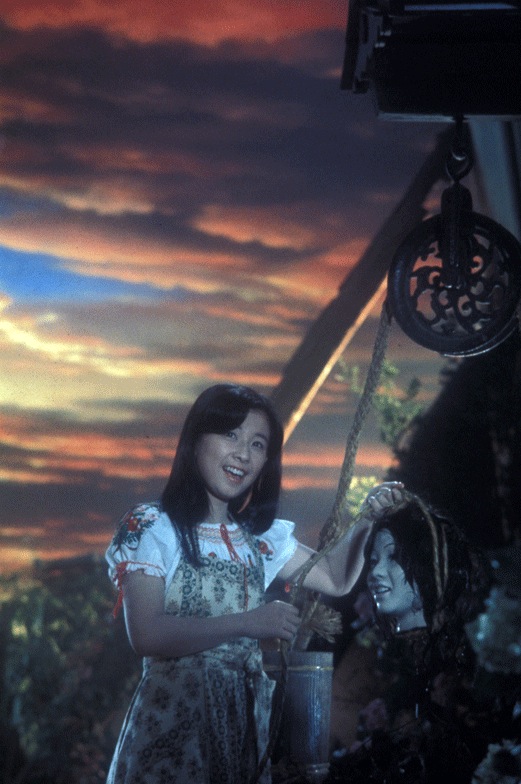 This film has been bandied about as completely weird and surreal, campy and bloody, and "the strangest film you've ever seen." Perhaps, but I want to look at this from a historical angle. Start with this thumbnail spoiler: six teenage school girls' summer plans change, and they visit an eccentric aunt in a spooky house in the country. They die one by one, the aunt is a ghost, and a cat is her agent, and the whole film looks like it was shot in Teletubbyland. The horror is campy, the plot a bamboo screen, and most of the people at the show hated it. But it does have a distinct visual style.
Demonic cats and creepy mansions go back decades on film – check Old Dark House (1932) or Cat People (1942). Innocents thrust into bad situations and Japanese ghost stories go back even farther, but what we see here is the beginning of the Spam in Cabin genre that dominated 1980s horror. Gorgeous (Kimiko Ikegami) planned to spend the summer with her widowed father (Saho Sasazawa) but he has a new bride who seems to live in a constant breeze – her hair and silky dress float, her ribbons flutter, and she's completely unflappable. The other girls – Melody (Eriko Tanak), Kung Fu (Miki Jinbo), Prof (Ai Matsubara), Sweet (Masayo Miyako), Fantasy (Kumiko Ohba), and Mac (Mieko Satô) – planned a summer at Mr. Togo's (Kiyohiko Ozaki) health camp but something fell though. A letter to Gorgeous' aunt (Yôko Minamida) quickly turns into an invitation and off the girls go. There's plenty of symbolism – a white cat, Aunt's hair is white, and Gorgeous has a white bridal gown scene, and you should recall that white is the symbol of death in the East.
Once at the house, the girls set to cleaning and cooking and bathing. Soon Mac disappears, and her severed head is found in the well. It levitates and bites Sweet on the rump. When Gorgeous takes a soft core bath, her wet hair begins to attack her and the astute might think, "Octopus Porn!" Now the girls are concerned, Auntie is dancing about, and we catch her slyly nibbling on some body parts. The horror escalates, with Melody eaten and raped by a piano. Soon only her fingers remain, plunking out… a melody. Now the house fills with blood-colored water, Sweet and Fantasy are left floating on a door frame in a house full of blood, and if you're not scared, laughing, or seriously confused, you just haven't been paying attention.
Here we have the elements of modern horror: a cohesive group split apart, an unstoppable and mysterious evil that destroys with little reason and less remorse, gallons of blood-like fluid, and occasional spurts of sex and humor to lighten the psychological load. For me, the "look" of the film impressed. It's cut like a Monkees video or "Hard Day's Night." Ôbayashi's camera whispers, "None of this is real," and we nod and cringe. The backgrounds have the over saturated colors of Communist Chinese propaganda posters of the 1960s, cloud shots are reused without apology, Mr. Togo lives with cast of Godspell, and nearly any part of this film would make a great J-pop video. If you want your horror bloody and real, avoid this film. If you want a camp alternative to Rocky Horror, or you are interested in the history of horror film, I highly recommend this. Do you think it's on Netflix?
---