Family Force 5
with The 808ers
The Social, Orlando, Florida • October 26, 2011
Christopher Long
Cool kids by the hundreds lined up for blocks along Orange Avenue to witness opening night of Family Force 5's Solid Gold Tour at downtown Orlando's nighttime hotspot, The Social.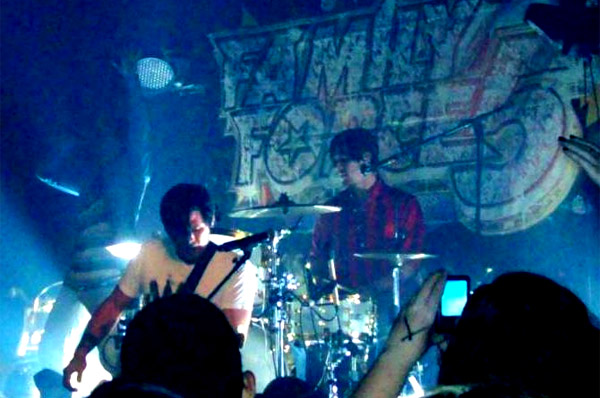 Known for their often spirited and unpredictable performance-related hijinx, the pseudo-Christian party rockers took the stage at 7 PM, masquerading as their own opening act – The 808ers. Donning crazy-looking wigs and mustaches, the Atlanta-based quintet led their predominately teenaged female audience through what was obviously an unscripted, comedic, 30-minute karaoke set.
Prominently displaying two full-sized "solid gold" motorized three-wheelers on stage (see their latest CD cover), the band returned at 9 PM sans wigs, and the 90-minute rock onslaught ensued. Amid a non-stop flashing LED light show, Family Force 5 treated their salivating fans to choice selections from their current release, III, as well as to numerous other longtime favorites from their 2006 debut, Business Up Front/Party in the Back.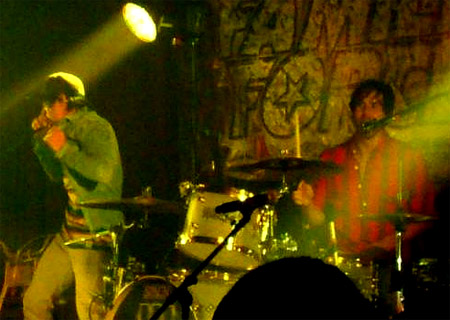 "I guess we really are just a bunch of rednecks," frontman/guitarist Solomon Olds (a.k.a. Soul Glow Activatur) confessed to the crowd during the show as he described their new record, which the band additionally touts as possessing a "return-to-rock sound."
Along with Solomon, bassist Josh Olds (a.k.a. Fatty), drummer Jacob Olds (a.k.a. Crouton), lead guitarist Derek Mount (a.k.a. Chap Stique), and synthesizer-ist Nathan Currin (a.k.a. Nadaddy) clearly connected with their loyal legions from start to finish and delivered a mighty, high-octane set. But the fellas also displayed their monstrous musicianship throughout the show, particularly during the midway acoustic mini set.
I've often fantasized about being the sixth member of Family Force 5, and I have even contemplated what my personal "a.k.a." band nickname would be. Although I do like the sound of "Jug Head" and "Cheese Cake," I'm sorta leaning towards "Ham Juice." Hey, even a creepy old guy can dream, right?
Family Force 5: http://familyforce5.com ◼
---