Dancing Barefoot: The Patti Smith Story
by Dave Thompson
Chicago Review Press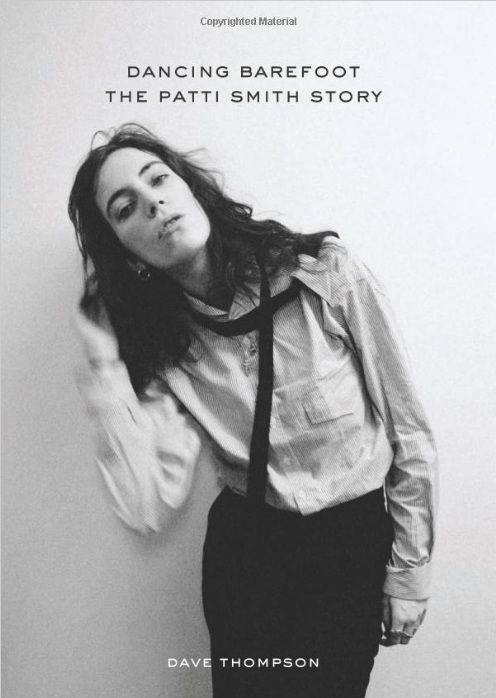 I've said my piece about Dave Thompson's writing before – if you want it done fast, boilerplate-style, before the craze dies down, you give this man a ring – but with subject matter as rich as Patti Smith, I had hoped this book would be more Number One Songs in Heaven (a very entertaining read) than his Red Hot Chili Peppers bio ('nuff said). I'd like to say that Dancing Barefoot is a fine piece of writing that ties together Smith's career neatly and serves as an excellent bookend to Smith's own, Just Kids, and Judy Linden's photographic compendium, Patti Smith: 1969-1976, but as is often the case with Thompson, it's complicated. Especially since Thompson tosses out whoppers like the claim that William S. Burroughs wrote Naked Lunch at the Chelsea Hotel (egads man, check yer fucking timeline) and wholesale lifts portions of Just Kids into his own work (with the net effect of making those chapters pointless to read if you've already read Kids). On the other hand, he gives quite a bit of pagespace to Patti's usually overlooked post-"retirement" life/work, scores interviews with key members of the Patti Smith Group, and calls bullshit, when necessary, on peccadilloes like Smith's later albums and her tendency to freeze out other female musicians in her youth. So it's a mixed bag. Okay, he's done his research, listened to the bootlegs, and read the magazines (and pulls quotes from 'em like a motherfucker!), so we get interesting revelations about her work with John Cale (circa Horses) and some brief glimpses into her life with soulmate Fred "Sonic" Smith, but on the other hand it reads like a damn press release too much of the time, and he just doesn't dig deeper when the story gets interesting. Like when her longtime collaborator (and lover? What ho, I'd never heard that!) Oliver Ray suddenly dropped out of her band and life, Thompson closes the case with something to the effect of, "We'll never know why he left." You can almost picture him dusting his hands off. Good lord man, isn't it your job to even look into that lil' wrinkle?
Thompson dutifully follows the arc of Smith's career from an impulsive move to New York City to the apogee of the Patti Smith Group with Horses and the birth of punk and then, less sexily/iconically, Smith's gradual withdrawal from performance and immersion in domestic life. And finally, after a series of personal tragedies and deaths, a triumphant return to writing and singing. A return that continues to the present day.
I'm still gonna have to say that Victor Bockris' Patti Smith: An Unauthorized Biography edges this one out, just by dint of Bockris's writerly flair, and that he, unlike Thompson, doesn't shy away from things like her crazy-ass "performance" at the Interzone Conference. But with that tome kinda hard to find right now, this may be Thompson's moment… at least until Smith delivers on the promised second volume of her memoir.
Chicago Review Press: http://www.chicagoreviewpress.com
---