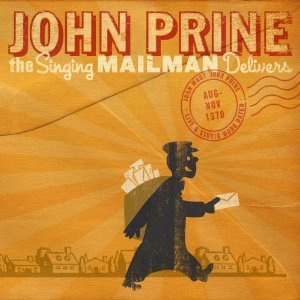 John Prine
The Singing Mailman Delivers
Oh Boy Records
It was 1971 when John Prine released his classic self-titled debut album. Containing such staples as "Illegal Smile," "Hello In There," and the bluegrass standard "Paradise," it quickly became one of the most beloved "singer/songwriter" albums of all time, and Prine became known for his Vonnegut-like word play and wry sense of humor. Forty years later Prine still performs these songs every night in concert, and time has not diminished one whit the pathos and the humor of them – nor their relevance, such as "Your Flag Decal Won't Get You Into Heaven Anymore," a song tailor made for the last ten years of the American experience, certainly.
2011 saw the release of The Singing Mailman Delivers, a two-disc set featuring Prine before his debut in 1970. The first disc features 11 songs recorded at WFMT studios after Prine was interviewed by the great Studs Terkel, taped for copyright purposes. Hearing the songs that would largely become his debut album, but in a solo setting, is an interesting look at the journey these songs took before their release. His debut, produced by Arif Mardin at American Sound Studios in Memphis, featured a full band including Buddy Emmons on organ and Reggie Young on guitar. On Mailman it's only Prine and his guitar, and while the songs themselves didn't change too much, his delivery is faster than on the 1971 album, and a little less confident in the singing department. A second disc is a live show from the Fifth Peg in Chicago, when Prine was playing there three nights a week in addition to his day gig as a mailman.
The Post Office's loss was our gain when John Prine left to become a full-time performer, and you can see it develop on The Singing Mailman Delivers. So grab yourself an "illegal smile" and enjoy.
Oh Boy Records: http://www.ohboy.com
---