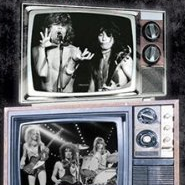 Lookin' Fine on Television
directed by Bob Gruen and Nadya Beck
starring New York Dolls
MVD Visual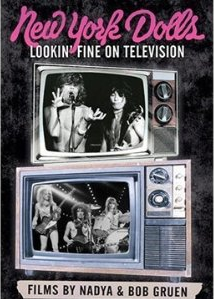 Muddy Waters begat The Rolling Stones. The Rolling Stones begat New York Dolls. New York Dolls begat all things cool that followed.
They were the first authentic punk band – plain and simple. Although the Sex Pistols are widely credited as being the pioneering purveyors of punk rock, they didn't arrive on the scene until years after the Dolls. And when placed side-by-side in a nationwide consumer taste test, the Pistols simply lacked the robust, full-bodied flavor of New York Dolls. The Dolls also ignited the new wave movement of the '70s, inspiring such acts as the Ramones and Blondie. And in short order, the Mötleys and Poisons of the '80s hair band era all likely would be still bussing tables at Denny's on Sunset Blvd (if it was still there), had it not been for shamelessly following the blueprint mapped out by New York Dolls. They didn't just flaunt a little Elvis-like guyliner – New York Dolls boldly presented themselves as true-blue transvestite junkies. And in the post-flower child era of the early 1970s, they were as visually shocking as they were musically groundbreaking. Additionally, they so perfectly exemplified the sex, drugs and rock 'n' roll lifestyle, that by comparison, the Dolls of the 1970s make the Courtney Love of the 1990s seem like the Carrie Underwood of the 2000s. Yet despite founding vocalist David Johansen and guitarist Sylvain Sylvain's best effort to hock a re-vamped version of the band in recent years, New York Dolls remain somewhat of a rock 'n' roll anomaly, 40 years after their formation. However, for longtime fans, a fabulous treat has arrived.
Culled from black and white footage shot originally in the early '70s by Bob Gruen and Nadya Beck, Lookin' Fine on Television gives fans an honest and pure glimpse of a truly legendary band, both onstage and behind the scenes, during its glorious, short-lived heyday.
Beyond the group's first two records, its occasional presence in Creem, and the frequent re-airing of a live clip for "Trash" on Lisa Robinson's Radio 1990 television program, relatively little Dolls-related media content was available during the pre-Internet era. Thus, Lookin' Fine makes for a mighty and rare treasure.
The grainy black and white videography and lo-fi audio only enhance the band's infamous garage-type image. In fact, had this production been any slicker, it likely would have diminished the band's mystique. The live concert footage and behind-the-scenes clips paint a vivid portrait of the group, and poolside interview segments and special feature bonus bits with Johansen and guitarist Johnny Thunders prove to be equally revealing and insightful.
New York Dolls: http://www.nydolls.org
---