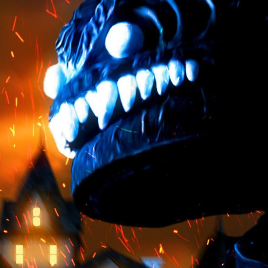 Puppet Monster Massacre
directed by Dustin Mills
starring Dustin Mills, Steve Rimpici, Bart Flynn, Ethan Holey, Erica Kisseberth, Jessica Daniels
Dustin Mills Productions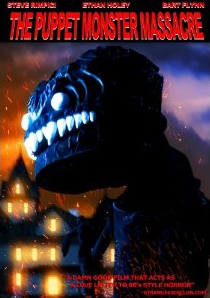 Everyone loves Muppets, and we love them even more when cruel human puppeteers force them into the debauched lifestyle of sex, drugs, and blood-thirsty monsters. It worked for Avenue Q, and it works in this ultra low budget ($3500) slasher. Steven Spielberg goes through $3500 at Starbucks, but in the hands of clever, motivated youngsters, you can get an entire full-length film for that, even if it won't sell much popcorn outside the basement of a college-level film fest. The plot is pure Corman: A bunch of innocents are called to Doctor Wagner's (Steve Rimpici) mansion where he needs bodies to feed his monster (Dustin Mills). The bait is a chance to win one-million dollars, but these felt oven mitts will have a better chance with Publishers Clearing House. Clean-cut Charlie (Ethan Holey) and Gwen (Jessica Daniels), drugged out rockers Mona (Erica Kisseberth) and Iggy (Bart Flynn), and orange felt Rami Campbell (Mills) line up, get eaten one by one, sort of rescued by a troupe of paramilitary nut jobs, and then everything burns to the ground. Can't miss with a plot like that.
What makes this film works is a combination of clever film making and innocent bad taste. Track-suited Gwen tells Charlie, "You might be a pansy, but you're my pansy." Charlie's the least competent puppet on screen, so you know he'll make it through the night but won't get the big bucks. Mona and Iggy have an icky sex scene and Iggy tells her, "Get your bare ass off my cassette, that sex juice can't be good for it." The sight of her naked felt boobs sticks with you but not in a good way, and she later tells Iggy: "Well, that was a bit longer than usual." The bunny fart scene is pretty good, but there are also long dead spots where Mills is hoping for low-budget inspiration.
Technically, the puppets are all stock melon-head styles with seams showing, but the cast handles them well enough. Effects are just effective enough to get giggle starts out of the viewer, and most of the sets are digital. There's no real question as to where the plot's headed, but as we all know, in bad horror it's the ride, not the gift shop, that we come for. Just to fill the disc, we get some slightly interesting special features – the director comments, the director and assistant director comments, and we learn the ins and outs of cheap effects by people who love to make them. This is a fun, silly movie, great for entertaining your annoying kid brother while you and your girlfriend make out on the couch. Nothing wrong with that, and when you're done you can applaud as Gramps tells Charlie how he punched Hitler in the ding-a-ling. Go, America!
MVD Entertainment: http://www.MVDb2b.com
---