Hank 3
Attention Deficit Domination
Plaza Live, Orlando FL • March 6, 2012
Carl F Gauze
Rolling up a bit late for the Hank 3 show, I got in a very long line of black-leather-clad, cigarette smoking, tattoo encrusted fan boys. Despite the guy behind me in a white, dipped-brim cowboy hat, I thought: "Hey, wait a minute – this is a METAL show!" While Shelton "Hank" Williams is his granddaddy's spitting image, he sure doesn't draw the same crowd. As the line inched forward, an astonishingly overweight and genial OPD bicycle cop checked us for weapons and illicit booze. I was expecting a boot scootin' crowd, but had been briefed by my editor "to expect something unusual." She got that right, and once through the door I found myself immediately in a long line for beer. This crowd kept three whole bars busy tonight, and if nothing else, The Plaza Live made its rent on liquor for this show.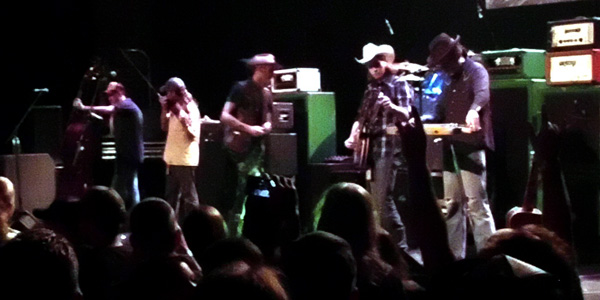 The show started a few minutes late, and the moment Williams sang it was hilly billy déjà vu. He has the same adenoidal voice of his ancestors, and while it's not a voice you would pick out of an audition to sing Country & Western, it's surprisingly effective with the material he writes. Most of the songs find their roots in punk rather than gospel, but the titles are classic: "Cootertown," "Rock and Roll Rebel," '"Goin' Back to Tennessee." All seemed to feature a 4/4 speed-metal beat, and while I hear the misery of a bad job prolonged and a good dog gone missing, there's a wink and a grin; this is after all a professional band expanding a well worn style. The crowd was enthusiastic, beer cups flew, and the smell of reefer hovered over the pit. The backing band seemed rooted to the stage but kept up the pace. A slap bass, country fiddle, banjo, rock drums, and a wobbly steel guitar kept things rocking while Williams monopolized the acoustic guitar. I worried about the steel guitar – it was perched on three wobbly chrome-plated legs and the guy driving struggled to keep up with Williams and keep his instrument upright. As the hour-and-a-half set wrapped up there was a concession to the old days in the Hank Sr. number "I Ain't Getting Out of This World Alive." By now the room was jammed and getting anywhere near the stage was impossible, and the dim mood lighting made photography nearly impossible for my little Office Depot camera.
Break time. Buy more beer; recycle what you're done with. And now the scene gets weird as the room goes dark and the music gets loud. The stage was black, a gut-wrenching drone came from the dark, and on a bed sheet screen over the band there was a screening of Tribulation 99, a post-apocalyptic film montage by Craig Baldwin. The noise was loud and missing most of the elements that a normal rock and roll offers, and we were surrounded by the sound and fury of Williams' alter ego, "Attention Deficit Domination." The room is noticeably less crowded, but those remaining crush the stage. My ear plugs fail and my guts complain and I do something I've never done before – I bail before a show is over. Was Attention Deficit Domination bad? I don't think the question makes sense, but it was unpleasant enough to push me over the edge. Maybe a few more beers would have helped, maybe more unfocused anger at the world in general, maybe a young man's need to show everyone how cool he can be would have held me. But I did see what I wanted, a reinvention of a style by a man with a pedigree you can't beat. I like the nu-Country show I did see, and I was not alone as I walked out to the parking lot.
Hank 3: http://www.hank3.com • The Plaza Live: http://www.plazaliveorlando.com • Tribulation 99: Tribulation99 ◼
---