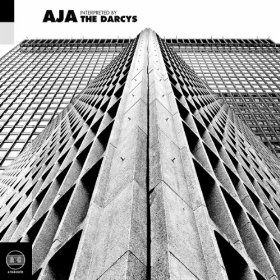 The Darcys
Aja
Arts & Crafts
Interesting… Yes, yes, I see… VERY interesting. But "Why?" Yeah, "why" in quotes – this project demands an ironically quoted "Why?" History lesson: Aja was a platinum selling album from the team of Walter Becker and Donald Fagan, popularly known as Steely Dan. Its jazz-rock styles spun out three hits: "Josie," "Peg," and "Deacon Blues," and represent a high point in the marijuana-influenced rock scene of the late '70s.
While the original Aja has a fluid, jazzy line that seems to push at the limits of the melody, the Darcys' take is much more restrained. The jazz feeling is still there, but it's locked behind a rather formal synthesizer and fuzz foreground. The rhythm track on the title song now has a quiet electronic buzz that alternates with an electronic metronome doubling or quadrupling the rhythm without making the song feel faster. Songs flow with no break, and the space cadet backing track runs throughout the album. Occasional notes slip to the wrong key; you sort of expect a video for this would look like hologram Princess Leia flickering on a bar stool in Mos Eisley.
The vocals are a respectable cover, the rhythm guitar and drums hard to tell from the original, and the electronic overlay grows on you. This remake of Aja might be a little disturbing to the purist, but it's not a bad re-imagining of a classic. And isn't that what makes classics "classic"? New artists look to the old for a canvas, adding their own brush strokes and bringing the next generation to appreciate what went before.
The Darcys: http://thedarcys.ca
---