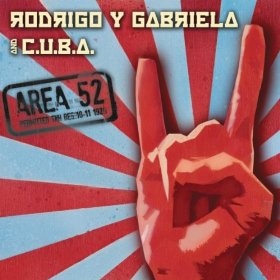 Rodrigo y Gabriela and C.U.B.A.
Area 52
ATO Records
From the beginning notes of "Santo Domingo," you know that this is not the same dueling guitar version of Rodrigo y Gabriela. Area 52, the duo's third album, brings in the 13-piece Cuban orchestra known as C.U.B.A. Together, they have reworked nine of Rodrigo y Gabriela's best tracks creating not only an entirely different feel, but a depth that could not be found on the original tracks.
You know that this is going to be different when you hear the sitar (marvelously played by Anoushka Shankar) on "Ixtapa." "Hanuman" gets a shot of jazz with the piano solo that leads into the bridge and a ska-like Reel Big Fish sounding end to the song.
"11:11" allows the duo to shine with C.U.B.A. taking to the background and letting the twisting and bending guitar lead in a waltz that flows right to the smooth jazz interlude, only to have the guitars sneak back in and steal the spotlight.
My favorite track of theirs has always been "Diablo Rojo," with an intensity that boils over when Gabriela pounds on her guitar like a drum. Adding C.U.B.A. to the song makes the track explode with actual drums, brass, and an energy that feels like a balloon about ready to burst.
Area 52 brings a whole new dimension to Rodrigo y Gabriela's music. Their dueling guitars teeter between acoustic thrash metal and tear-in-your-eyes melodic balladry without singing a single note. With C.U.B.A., they have taken great songs and opened them up to an entirely different genre, making them even better. This is their best album to date and one of the best of 2012.
Rodrigo y Gabriela: http://www.rodgab.com
---