Red Hot Chili Peppers
with Santigold
Amway Center, Orlando, FL • March 31, 2012
Jen Cray
Three songs – 15 minutes – was the only taste I was allowed for the Red Hot Chili Peppers when they sunk their teeth into Orlando's Amway Center for the rescheduled-because-of-an-injury I'm With You World Tour. A new song, a hit song, and a not-so-known gem from their double album gave soundtrack to my moments in the photographers' pit at the lip of the stage and, as I was whisked away, I listened to another classic from the hallways of backstage. Oh, to be a ticket holder, but – as bad luck would have it – this show has been sold out since before the new year even began, and my credentials only allowed me to photograph.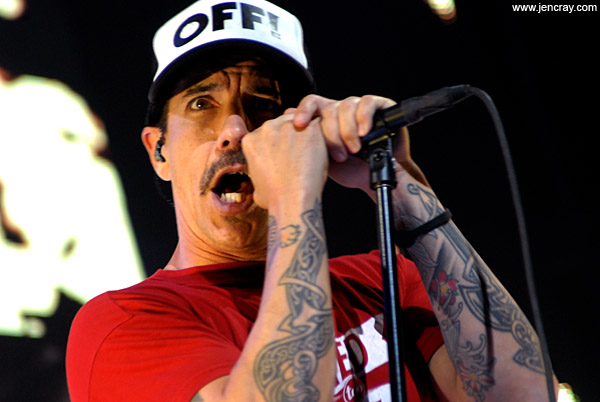 Originally scheduled for January 21st, but delayed after singer Anthony Keidis had to get surgery on his right foot, the rock fans easily filled the Orlando Magic's home arena leaving many fans (hello, there!) without a ticket. What I was lucky enough to see was a Chili Peppers that was a hell of lot closer to what it used to be, as opposed to the rather tame and tense version I saw the last time they came through town, on 2007's Stadium Arcadium Tour – also known as John Frusciante's last tour as the band's guitarist.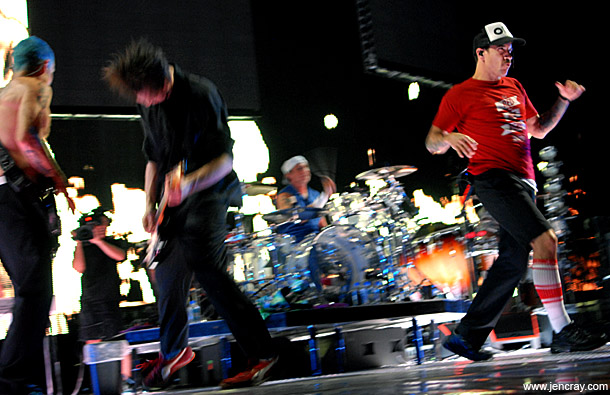 The 2012 Chilis are showing their age, to be sure – as best depicted by the bottles of Fiji water that adorn the stage – but, even with a foot that's still a bit out of commission, Keidis was hopping and skipping around alongside tireless bassist Flea. New guitarist Josh Klinghoffer, more than 15 years younger than the core crew of Keidis/Flea/Chad Smith, is a vibrant presence onstage that goes beyond his intricate guitar work. He looks like a kid who won the rockstar lottery, landing a spot within a well-oiled legendary band just in time to get inducted into the Rock 'n' Roll Hall of Fame.
Not quite as sparky as Klinghoffer was opener Santigold. As candy sweet as her electro/hip-hop fusion is – and I'm a sucker for "L.E.S. Artistes" and "Creator" as much as the next owner of a pair of ears – it very quickly became repetitive. Colorfully clad in a shirt, skirt, and crown that seemingly came from the closet of an 8-year-old, and sandwiched by strangely robotic "dancers," her mildly choreographed set turned boring after about 10 minutes. Less effort to be odd and more passion could have greatly enhanced her time in front of the large crowd, because her music is well worth the listen.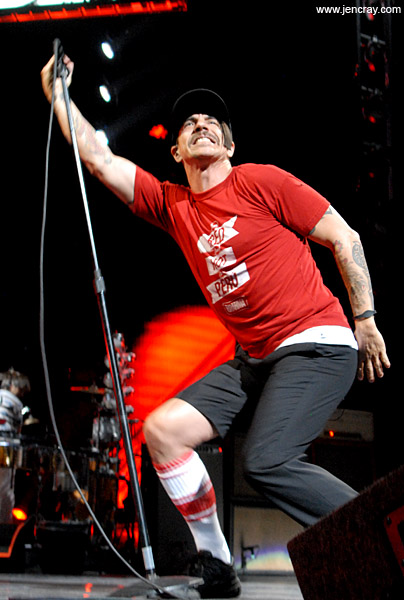 The folding chairs that, sadly, cluttered the floor of the arena were justifiably left cold as butts jumped off their seats at the approach of the headliners. Kicking off with "Monarchy of Roses," a song that is only beginning to finally work its magic on me, stated loud and clear to the room, "you may have come to hear 'Under the Bridge,' but you will learn to love our new record."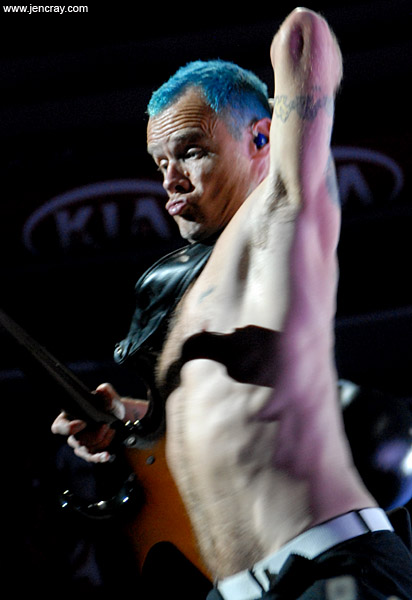 Hiding his near-50 years of hard living under a mustache and a trucker cap (at least it was advertising OFF! – a band featuring Black Flag/Circle Jerks' Keith Morris), Anthony Keidis was more subdued than the long-haired hellion of yesteryear, but impressively hoppy for a dude with a sore foot. Using his microphone stand as a crutch, he pounced around as much as he dared, but left the majority of the air for long-time sidekick Flea – whose hobby of running marathons has kept his energy up and his hamstrings supple. As the band funked the crowd into a frenzy during "Can't Stop," the blue-haired monkey man bounced, did a belly dance, and banged heads with Klinghoffer, who's taken Keidis' place as the hair-flinger in the group. Behind them all, Chad Smith pounded the beat into the concrete looking as Will Ferrell as ever. Break out the cowbell, Chad!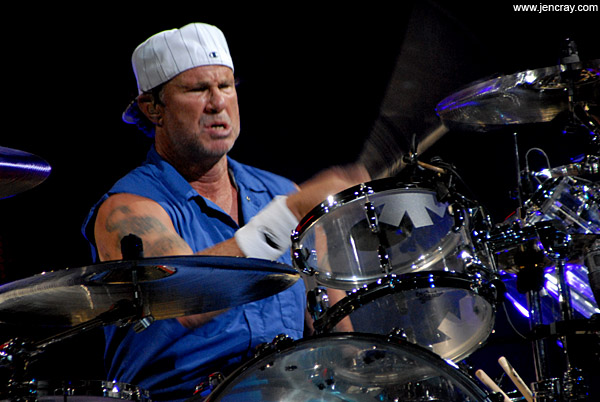 "Charlie," a funky freakfest with the killer bass line off of Stadium Arcadium, was my third and final taste, and the song soared when on the recording it merely sparkles. The Chilis were just warming up, heading straight into "Otherside" as I took my leave. In the quiet, lonely, white halls – surrounded by empty cases stenciled with the band's famous Asterisk logo – I savored the final notes of a song that has been a familiar friend for well over a decade. And with that, I bid the arena goodnight.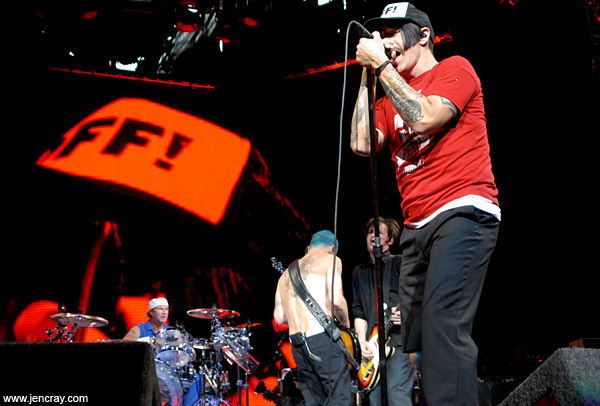 Thanks to the wonders of YouTube, I'm able to watch almost the entirety of the show. It's not as real as being there, but it's pretty damn sweet, even still! Technology, I hate that I love it sometimes.
Gallery of live shots from this show: Red Hot Chili Peppers; Santigold.
Red Hot Chili Peppers: http://redhotchilipeppers.com • Santigold: http://www.santigold.com ◼
---