Gemma Ray
Bowery Ballroom, NYC • May 7, 2012
May Terry
Have you ever had a story to tell about an amazing experience that happened to you, but because it wasn't the right time or place for it, no one could see why it was such a big deal? Well, this best describes Gemma Ray at the Bowery Ballroom this past month, kicking off the first date of a month-long tour opening for Ane Brun, Norway's darling answer to Kate Bush. With her jet-black hair in a short beehive and wearing a sleek and simple black and white '60s short dress, probably bought on consignment, Gemma Ray performed nine songs – almost half of which are from her upcoming album, Island Fire. On a stage filled with instruments that were mostly set up for Ane Brun's band, Gemma appeared onstage with her guitar and a drummer who, mashed between all of these propped instruments and stands, provided a decent rhythm to back what was basically a solo performance.

In a nutshell, I really enjoyed listening to Gemma Ray's set. She is an absolutely amazing musician with a great voice and admirable guitar prowess, weaving in reverse chord bends from the tremolo bar on her vintage Gretsch that could have solicited a pleasant nod from the late guitar legend Duane Eddy. Onstage, the slow and steamy vocals of her western-noir ballad "Troup De Loup" sent a prick-up-your-ears vibe around the Ballroom prompting those who sat on the floor to stand up and listen more closely. For "They All Wanted a Slice," Gemma's guitar solo involved an old kitchen knife bowed across the bridge – a clear homage to Jimmy Page's guitar bowing theatrics, and acknowledgement of Page's liking of her music after admitting that he was a fan. While it may appear a little gimmicky, it worked for the song, and was probably the best visual hint onstage that night that Gemma Ray defies being pigeon-holed with other contemporary retro-inclined torch singers like Lana Del Rey, or even Adele.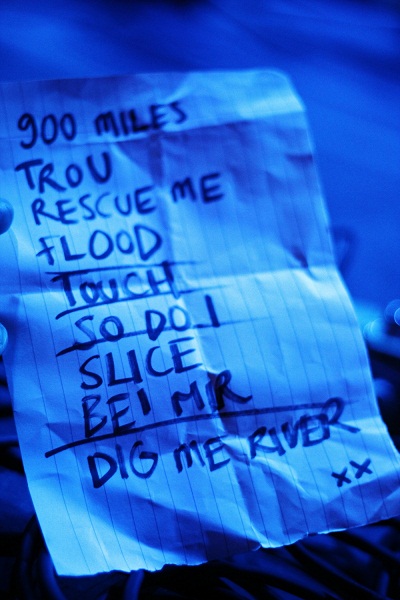 I did however leave unsure if my enjoyment of the show was influenced by a preconceived notion of what I had already heard and seen in her albums and videos because, at best, she closed with a lukewarm reception from an audience basically waiting for Ane Brun. Maybe I was a little disappointed because I felt that the best aspects of Gemma Ray's music may not have reached the audience that had never heard of her before that evening. Why is it that a great artist/songwriter who has amassed a wealth of positive reviews from critics has not yet reached a wider audience?
Perhaps sometimes, as famed media theorist Marshall McLuhan coined it, "the medium is the message" and something was lost in translation between the creative experience of Gemma Ray and the live performance. So, if you could see what I hear, this is my take on the Gemma Ray experience:
Gemma Ray's signature style delivers a highly anachronistic musical trip through the Twilight Zone. Many songs draw from the layered harmonies of early '60s girl bands like The Shangri-Las, The Crystals, or The Ronettes; the sultriness of Peggy Lee or similar early '60s chanteuses of the time; and the fat and twangy guitar tones that convey a spaghetti western feel. But, not to stereotype her as a tribute singer for a time long gone, the difference is that in much of her music, there is something that has gone deliciously awry. While some attribute this twist to a classic film noir, it's more like a Rod Serling episode that starts in a bourgeois suburban town where there's an undercurrent of suspense or irony waiting to unfold.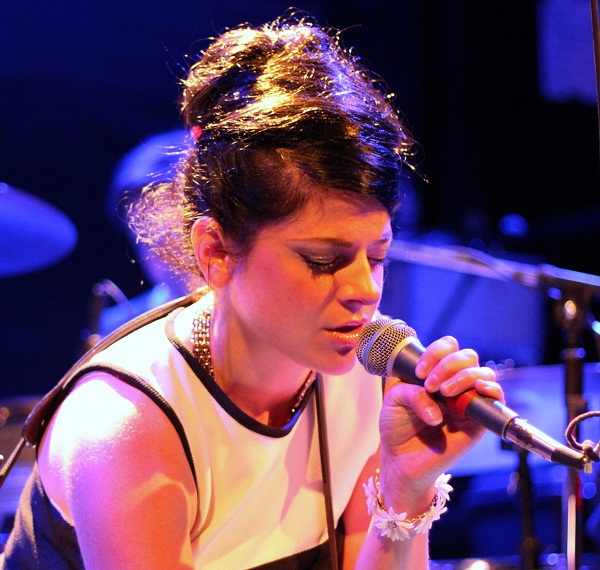 Whether the experience was solely planned by Gemma Ray, or as part of a creative team, the work has evolved to a crafted musical representation of Pop Art in lyrics, music, and video. The video for Gemma's first release, "Rescue Me," from Island Fire (online at YouTube) alludes to Richard Hamilton's iconic Pop Art collages to illustrate lyrics that paint a surreal, medicated trip in suburbia.
The cover of Mudhoney's "Touch Me, I'm Sick" dials down the original's grungy rage to a western/bossa-nova feel with highly reverberated vocals appropriate for the cover of her last album, It's a Shame About Gemma Ray, that mimics the '60s campy psychedelic horror, The Trip, starring Peter Fonda. The Gemma Ray experience slams one clever cultural retro-reference after another. Quentin Tarantino and Robert Rodriguez should take note: there's a spot for Gemma Ray on a soundtrack to one of your future grindhouse films.
However, with a no-frills stage setup stripped of the layered harmonies and keyboard backings that nuanced many of her great songs, this overall performance slightly dulled the Gemma Ray experience – like a Polaroid where the colors are slightly faded, but the memory of the party behind the snapshot still lingers. Gemma did mention during the show that there was supposed to be a keyboard player for this show, but something supposedly happened which didn't make it possible. That was unfortunate because some songs like "Flood and Fire" (probably one of the best tracks on Island Fire), as great as it sounded that night, takes on a subtle but more alluring feel with the organ sounds on the album's version.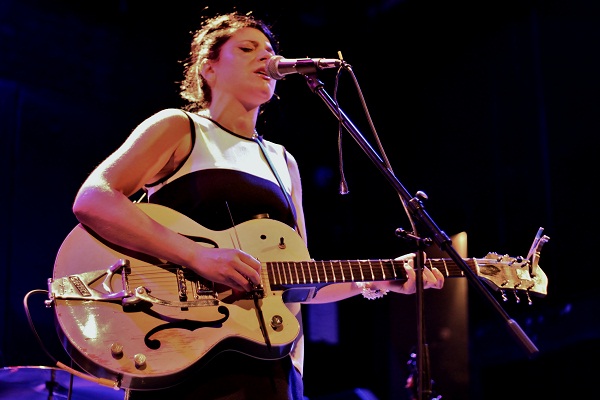 It's just a shame about Gemma Ray because she has the creative vision and talent to gain a huge fan base, but needs the means, through both live musical backing and presentation, to really give audiences the full effect of her work. Without that, it's difficult for her to convey to unfamiliar listeners attending her show why her music is so special. For instance, if the tour only allowed for one drummer, then it would have been nice to see one song performed with Ane Brun and her band to showcase the depth of some of her songs. I would almost guarantee performing "House Fire" with Ane Brun and her two talented backup singers playing keyboard and cello would have instantly appealed to the swarm of expatriated Scandinavians that packed the Bowery Ballroom that night.
Ultimately, seeing Gemma Ray perform live is an opportunity you should not miss, even if it's for the short 40-minute set opening for someone else. But as a little homework, if you've never heard of her before, listen to Island Fire or any of the other songs in her previous albums or videos online. Her cover of Buddy Holly's "Everyday" is probably one of the most wonderfully unique interpretations of the '50s classic that you'll ever hear. Even the rather crude online recording of her performing "Death Row" (off of Lights Out, Zoltar) in-between shows with two guys singing backup in silver skull masks behind her still makes me chuckle under my breath. In the meantime, I'll be hoping the best for her to attract a broad mass of U.S. listeners pining for a refreshingly twisted take on nostalgia.
Gemma Ray: http://gemmaray.tv ◼
---