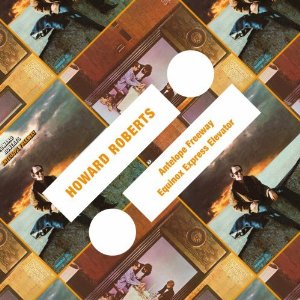 Howard Roberts
Antelope Freeway/Equinox Express Elevator
Impulse!
Howard Roberts was a well-respected session musician in L.A. – it's his guitar on The Munsters theme and I Dream Of Jeannie, among others. He was what was called a "go to guy" who had the reputation for taste, timing and flexibility, and was a highly demanded guitarist, who went on to write the "Jazz Improvisation" column for Guitar Player magazine.
Something must have snapped in him during the early '70s, because he put out two albums that wouldn't sound out of place among your Captain Beefheart and Can records. Antelope Freeway from 1971 and Equinox Express Elevator in 1972 are just… wow. A blend of instrumental noodling, stereo freak-outs a la Esquivel or Zappa, and random bits of dialogue that recalls the great Firesign Theater, this is one of those great lost moments of American culture. Long out of print on vinyl, Impulse has stuck both of them on a CD and while it's not jazz so much, it does have the hallmarks of that great "outsider" jazz label. I can imagine that during the groovy days of the 1970s this wouldn't have sounded out of place in an evening's listening among your latter John Coltrane or Albert Ayler, although it's certainly not as aggressively atonal as that would lead you to believe. Any record that contains songs entitled "Five Gallons of Astral Flash Could Keep You Awake for Thirteen Weeks" or "Ballad of Fazzio Needlepoint" intrigues, and your curiosity is rewarded with one of the most unique listening experiences you ever have.
So, for something a little bit – ok, a lot different, get your hands on a copy of Antelope Freeway/Equinox Express Elevator, a hookah, and a bean bag chair. I guarantee you'll come out the other side a changed person. Far out.
Impulse!: http://impulse50.com
---