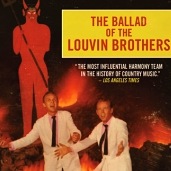 Satan Is Real: The Ballad of the Louvin Brothers
by Charlie Louvin with Benjamin Whitmer
Igniter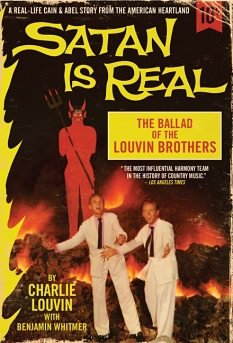 What is it about brothers that makes them go into the music business… and then tear themselves apart? The Kinks with Ray and Dave, Oasis with the Gallaghers, and on and on. But the original brawling and harmonizing duo are still the greatest, Charlie and Ira Louvin. They began singing in large part to get the hell away from their domineering father, a farmer who regularly beat the crap out of the two, particularly Ira, who seemed to have a grudge against the world. An early performance by Roy Acuff, and the image of his long road car, gave the brothers their dream, to be on the Grand Ole Opry. After years of struggle they made it, and remained – Charlie was the longest-serving Opry member at his death in 2011.
The music of the Louvin Brothers, from their gospel beginnings to their more secular later material, has formed the blueprint for country harmonizing ever since they began in 1947. Their Satan Is Real, with one of the most bizarre covers you've ever seen, is a landmark, and Tragic Songs of Life, with the oft-covered "Knoxville Girl" has influenced performers such as Gram Parsons and the Everly Brothers, among many. But it's the story behind the songs that is arresting. Charlie obviously loved his brother Ira a great deal, but he spares no punches in describing his alcoholism and bad attitude, and more than once fought him nearly to death. Ira was hell-bound, generous, and friendly when sober, but a mandolin-smashing lout when drunk. Charlie left the duo in the early '60s, fed up with the behavior of Ira, and Ira's death in an auto accident silenced them for good in 1965. Charlie remained a solo star until his death, garnering praise from both country and rock performers.
Satan Is Real is a great read, full of insights that any fan of "real" country music will enjoy. Be forewarned: Charlie ain't a preacher, and spares no salty language or ribald commentary when telling his tale. And what a tale it is. From back-breaking poverty growing up in Sand Mountain to acclaim on the Grand Old Opry and all points in-between, the Louvin Brothers' story is a compulsive read, and in the end, as cherished as their music.
Charlie Louvin: http://charlielouvin.net
---