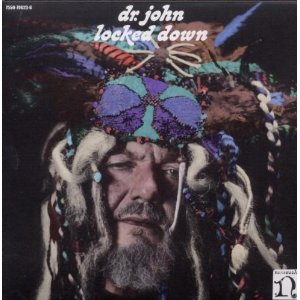 Dr. John
Locked Down
Nonesuch Records
Dr. John released his debut record, the bewildering, stoned masterpiece Gris Gris in 1968. Dan Auerbach, leader of the Black Keys and producer of Locked Down was born 11 years later, in 1979. That sounds about right – you gotta be a young man to keep up with the Night Tripper. Because the stuff that Dr. John is serving up here… that shit is relentless.
Now the good doctor don't need no young bucks around to make good music – he's been doing it longer than y'all been born, ya see. From Gris Gris to Right Place, Wrong Time or the emotional City That Care Forgot about his beloved New Orleans, he's been getting low down like no one else. So when Auerbach looked him up hoping to channel that certain something that the doctor has in abundance, he "possibly got more than he bargained for," says the liner note. Together the lo-fi garage guitar of Auerbach slides into the groove of Dr. John's percolating keys, and with a baritone sax providing stuff to shred your sub-woofers, you just gotta lay back and let the sound wash over you like a wave. Sounding somewhat like Exile On Main Street (and no wonder, since Dr. John provided keyboards on that, too), with stabs of Telecaster riffage atop a slippery clavinet, cuts like "Revolution" or the title track just slay you right out. Dr. John's lyrics are, as always, mysterious, magical, and street-wise – to quote them here robs them of their function as a musical entity – and he does that voodoo better than anyone, becoming one with the groove, funky and obtuse. I mean, you dig it, but you can't really explain it. Sho 'nuff.
Auerbach assembled a dynamite band including Brian Olive on guitar, sax, and vocals, and the incredible Max Weissenfeldt on drums, but the man behind the keys holds all the aces. When Dr. John sings "Ain't never was, never gonna be, another big shot like me" it brings to mind the adage of Casey Stengel: "If you can do it, you ain't braggin'." And believe you me, as Locked Down shows in spades, Dr. John ain't braggin'. He's doin' it.
Dr. John: http://www.nitetripper.com
---