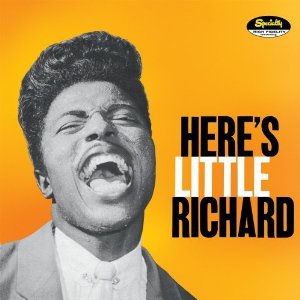 Little Richard
Here's Little Richard
Specialty Records
"A-wop bop-a loo-mop, a-lop bam-boom!"
And there, it began. It wasn't Little Richard's first record; he'd been recording for various labels unsuccessfully for years. But when Specialty Records head Art Rupe heard the rough demo of Richard Penniman of Macon, Georgia, something clicked. "Tutti Frutti" was named #1 on Mojo's 2007 The Top 100 Records that Changed the World, and it did that, without a doubt. Nothing, not even Pat Boone's whitening version, could put the boy back in the box.
Here's Little Richard is only 28 minutes long, but it's an impressive half-hour. Careers were made from it, such as The Beatles, whose early success at The Cavern was made doing versions of "Long Tall Sally," "Rip It Up," and "Slippin' and Slidin'." Every cut on the record is a single, such as "Jenny Jenny" or "Ready Teddy," and it all defines the dawn of a new age. There has been no one like Little Richard since – he occupies a place solely to himself. There are better piano players (Jerry Lee Lewis, for one) or better singers (Elvis), but nobody put it all together and wrapped it in eye shadow and menace like Richard. He was outrageous in 1955 – hell, he still is today. This reissue features two demos, "Baby" and "All Night Long"; an interview with Art Rupe; and two videos, screen tests of "Long Tall Sally" and "Tutti Frutti."
This record is such a potent display of greatness that it's hard to believe it's over 50 years old. It leaps out of the speakers in an amphetamine rush, over before you know it, completely unique and original. If you haven't heard it, it's a must. And once you have, you'll never be the same.
Concord: http://concordmusicgroup.com
---