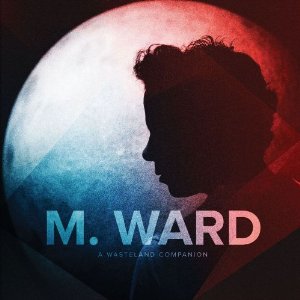 M. Ward
A Wasteland Companion
Merge Records
Combining sounds of old with new, Portland, OR based M. Ward has released his sixth studio album, A Wasteland Companion. A darker, more mature, and older-sounding M. Ward, perhaps wiser, he has given us the sounds of the future. With mixed genres of Americana country folk, rockabilly blues, and electronic daydream sounds that cast an eerie cloud over the album, the whole project is awesomely hip, and tragically cliché.
Garrison Keilor's A Prairie Home Companion is the first thing that comes to mind, and is a true nod to the title, A Wasteland Companion. From the cover art where M. Ward appears to be a shadow on the moon, to the arrangement, the poetry, the rich sound of his voice, and those golden fingers on the piano and guitar, each song paints a tapestry of landscapes woven together with American folk art threads, loomed cross-country in an old El Camino with a bottle of whiskey and an old dog, and some existential literature in the glove box. He has compiled a travelogue of love, adventure, self-searching, media, culture, and great storytelling. Perhaps his inspiration came from the journey in recording this album in eight different studios across the U.S. (Portland, Oregon; Omaha, Nebraska; New York City; Los Angeles; Austin, Texas) and in Bristol, England.
As well as guitar playing, Ward had a hand in production, arrangement, piano, and of course singing. He was joined by 18 artists and engineers from pedigreed bands such as P.J. Harvey, Bright Eyes, Sonic Youth, and Rufus Wainwright, giving this solo album a really full sound. Among the musicians were Giant Sand's Howe Gelb and Zooey Deschanel of She and Him, a project with M. Ward that earned them a Grammy nomination. Although Zooey Deschanel is only featured on two tracks, "Me and My Shadow" and "Sweetheart," I wonder if it's her voice in "I Get Ideas."
I thoroughly enjoy this album from track three to nine, with its Buddy Holly/Tom Waits fusion feeling. The elephant in the room is track two, "Primitive Girl." I feel like it is a cleaner and more produced version of the Velvet Underground tune "There She Goes Again," but something weird happens at the end of that track. It doesn't fit, unless it's a secret, and as the promo single, misrepresents the album.
If you enjoy these artists of the past – Buddy Holly, Leonard Cohen, Nick Drake, Johnny Cash, Tom Waits, The Velvet Underground – then you will enjoy listening to the new music of M. Ward.
M. Ward: http://www.mwardmusic.com
---