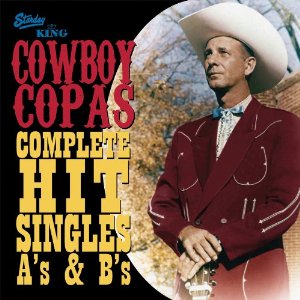 Cowboy Copas
Complete Hit Singles A's & B's
Starday/ King / Real Gone Music
Normally you wouldn't apply the word "oeuvre" to a 1940s cowboy singer, but this two-CD collection pretty much covers anything Cowboy Copas did that you would want to hear.
While Patsy Cline has had reams of success since her 1963 airplane crash, the much more successful Cowboy Copas dying that night remains nearly forgotten. Copas had more hits (and had been performing longer) with a more Gene Autry style, but his simple two step / waltz style has fallen out of favor. Behind his avuncular voice we hear all the classic country backings – simple guitar, a touch of pedal steel, and lovely female harmonies. This is the sound of the old radio shows like The WLS Barn Dance, and I can smell the straw and mouse pee in the background as the music radiates from a glowing car radio on a cross country drive. "You'll Never Ever See Me Cry" brings tears to your eyes, "Alabam" is hokey but memorable, and "Signed, Sealed and Delivered" is about as depressing a love song as you will hear. There are some other songs that are part of the country music hive mind: "Tennessee Waltz," "Tennessee Moon," and "Waltzing with Tears in My Eyes" were all songs that have been endlessly covered and even parodied.
Jump right in; there are two full CDs, not a single bad cut, and a great set of liner notes by Colin Escott. This is pure joy if you've migrating from alt-country to the real old school stuff.
Real Gone: http://Realgonemusic.com
---