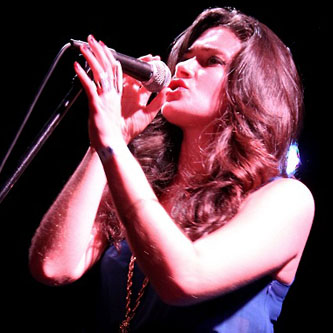 Lily and The Parlour Tricks
Bell House, Brooklyn, NY • June 21, 2012
May Terry
The neat thing about parlor tricks is that they're entertaining at parties and, when done well, leave the audience wanting more. How apropos for Brooklyn's own Lily and The Parlour Tricks, whose recent performance at the Bell House on a hot summer night in June where the heat index was into triple digits, did just that.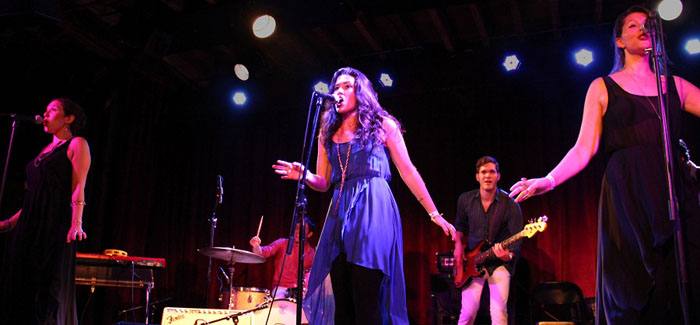 Their 40-minute set was mostly from their current self-titled EP. Recorded in London's Daptone Studios (also known as the place where Amy Winehouse recorded Back to Black) and released late last year, the songs are a time-warp of retro-rock that crosses at least seven decades of Americana music that blends country, swing, and rock and roll with a modern edge.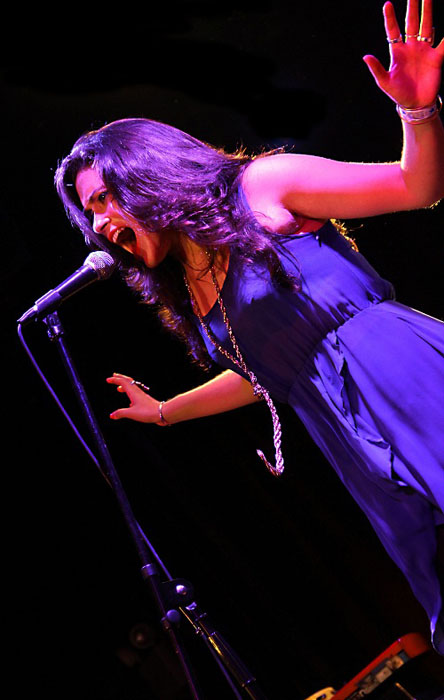 The spotlight is clearly on lead vocalist Lily Claire, whose mid-range voice is as smooth and velvety as a fine wine with just the right tannins. And, when joined by the backing harmonies of Morgane Moulherat and Darah Golub, the result is a power-packed vocal trio that harkens back to the '30s and '40s sister bands – think Andrews Sisters for the new millennium.
The ladies' poses are sharp and rehearsed, with moves and expressions that are sometimes coy, other times bold and sassy. This stage presence is infectious with some listeners doing their own shimmy shake on songs like "The Poison Song," a retro-rock tune with a really catchy bass lick from Brian Kesley and drum rhythms from Terry Moore that mimic a Glenn Miller Band hot swing. The departure from just-another-swing-song is that the horns and winds are replaced by catchy and ripping rhythm guitar distortions, well played by Angelo Spagnolo.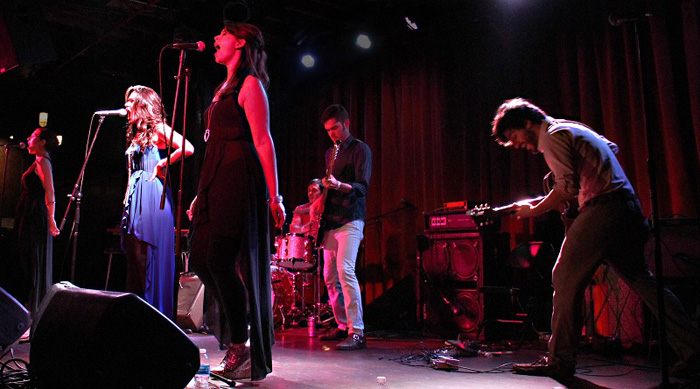 Thanks to the good sound engineering at the Bell House, the lyrics came in crystal clear and allowed me to really enjoy "Darwin," probably my favorite song from the band because of its witty flight of fancy reminiscent of some Cole Porter songs. Hearing this made me kind of yearn for my own time-warped Midnight In Paris moment where I can have a seat at the Algonquin Round Table next to "Vicious Circle" faves Dorothy Parker and Robert Benchley.
In a more current vein, the set included two cover songs that came as a welcome surprise. Lily and The Parlour Tricks' cover of Nine Inch Nails' "Closer" was sung in a rather aggressive, yet seductive way that could have swaddled Trent Reznor in blue velvet with oxygen mask in hand, doing his best Dennis Hopper impression. On the flip side, the band's rendition of Tom Waits' "Clap Hands" turned the creepiness of the original version into a lively swing with choreographed moves that actually made me want to clap hands.
If musical tastes were seasonal, then consider this: when the summer months get hot and humid, you can sloth it up like the Mississippi Delta blues, kick back and chill reggae style, or you can crank up the heat with some energetic music that gets you out of your chair. If you go for the heat while desiring a swanky, anachronistic twist in your sound, then Lily and the Parlour Tricks may be right up your Tin Pan Alley.
Lily and The Parlour Tricks: http://www.lilyandtheparlourtricks.com ◼
---