The Hollows
Brooklyn Bowl, New York City • June 26, 2012
May Terry
Jumpin' Jehoshaphat! If the Hatfields and McCoys were going to have a truce celebration, The Hollows would be on the musical card. That's because the best word to describe a Hollows show is one that the band uses: hootenanny. And so it was at their EP release party that the Brooklyn-based roots rock sextet, joined by guest local musicians, played an upbeat set to locals, and a grand ol' time was had by all.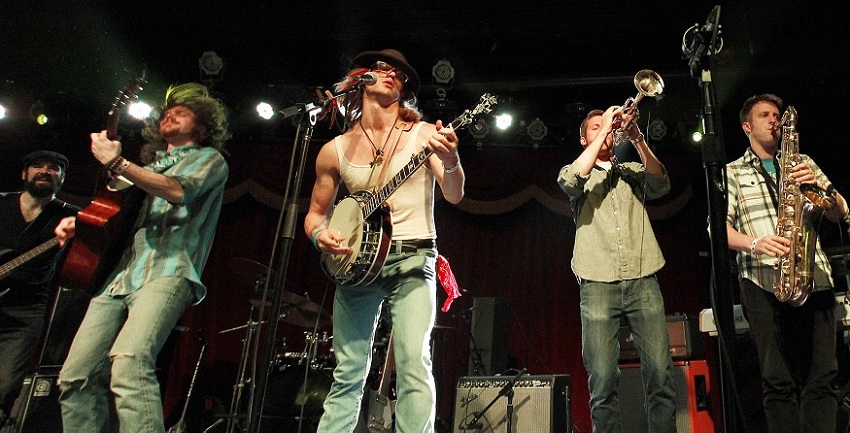 The Hollows were certainly attention grabbing from the get-go in the opening song, "Sticks and Stones." This catchy song was the best one to start off their set. A grandiose and thunderous, operatic outpour came from banjoist, Daniel Kwiatkowski (aka: "DK"), arms stretched-out like a side show barker or big-top ringmaster to draw the audience at the start the show. The song then broke into a shanty/pub chant type of a song infused with mariachi-influenced trumpet lines from the vocals/horn/keyboards player, Dave Paarlberg. It set the stage for the audience to loosen up and enjoy the show. I then knew that this wasn't going to be a lay-back-and-listen kind of band.

Don't expect waxed poetics from this band. There are plenty out there to fuel your melancholic and introspective inclinations. Instead, as the band advises in "Sticks and Stones": So don't let your thoughts go six feet deep/ It's a long way down and the road is steep/ Just remember you belong to the land.
It actually goes without saying that all of the band members are rather versatile with their musical chair of multi-instrumentalism. Three of the six shared harmonica duties, two swapped on keyboards, all members sang backup, and four of them shared lead vocals. I, for one, like the shared lead vocalist duties since it expands song variety while keeping a signature musical style to the group rather than to a specific performer.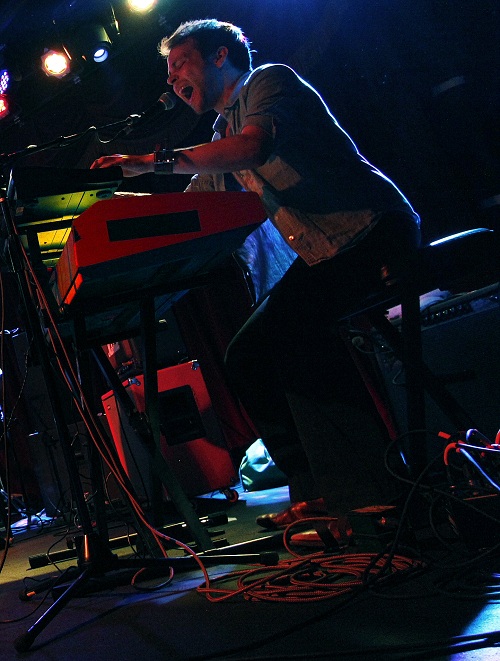 While The Hollows are pegged as roots rock, which in its many sub-genres draws from folk, country, and rock, I would add that there is a strong tilt towards highly charged Appalachian bluegrass, as noted in their songs "Old Brown Dog," "August," (sung by Rob Morrison on mandolin), and "Josephine" (sung by Erik Saxvik on acoustic guitar). "Youngblood" is more country rock, but tonight's performance had a great, fuller sound thanks to the additional horns from guest musicians Chris Brouwer and Greg Sanderson from the Brooklyn funkadelic band, Turkuaz. A cover of the Rolling Stones' "Loving Cup" filled the stage with the guest horns plus vocals from another local performer, Brian Cherchiglia, from The Bottom Dollars.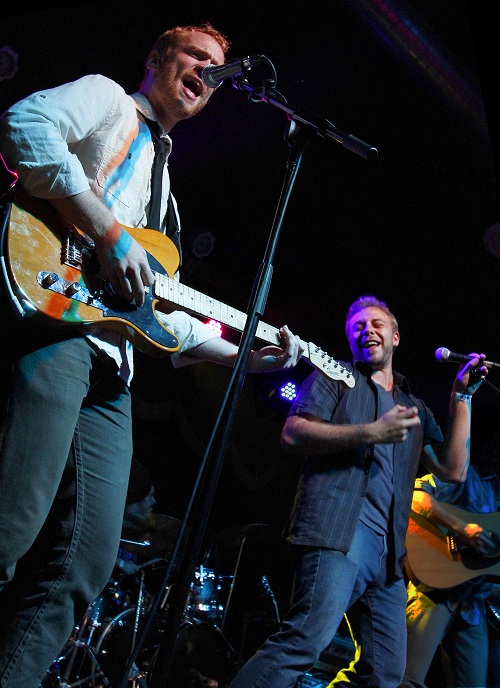 After "Jepson's Creek" (off the new EP) and a brief pause, The Hollows closed out the set with an encore of "Whiskey and Wine." And mirroring the opening song, the closer also finished with a bang; DK's roaring twang, an all-in singing of the chorus, and an upbeat gospel-music-type jam left the crowds on an exhilarating high note with dance and cheer.
I would definitely watch the Hollows again, and I'm certain they have a decent local fan base who would say the same. I'm just not sure why the Hollows generally remain landlocked in the Northeast when they need to take their musical moonshine further south, belong to a bigger land, stretch a little farther along I-95 just past the Mason Dixon line, play some country festivals along the way, and hit some college towns that dig a fun roots rock show. For the rest who would like to know more, check out their performances online and listen to their EP. While not as good as the real thing, at least you get a nice swig of hootenanny hooch for your listening pleasure.
The Hollows: http://thehollowsonline.com ◼
---