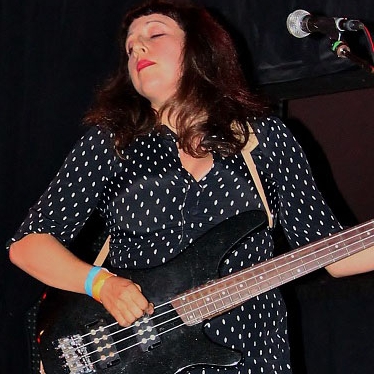 Grass Widow
with The Black Belles, Turbo Fruits, and others at the Panache Northside Showcase
Knitting Factory, Brooklyn, New York • June 16, 2012
May Terry
San Fran post-punk darlings Grass Widow have had a pretty good streak in their career thus far with the release of their third album Internal Logic, touring with bands like Wild Flag and Sonic Youth, and appearing in a short but funny segment on IFC's awesome indie comedy, Portlandia. Closing out their recent tour of the Midwest and East Coast, the trio of Hannah Lew (bass), Lillian Maring (drums), and Raven Mahon (guitar) headlined the Panache Northside Showcase at the Knitting Factory in the heart of Brooklyn, NY.

Yes, I said showcase, or rather, it was a lesson in delayed gratification for a Grass Widow fan, because they were the last of six bands in a five-hour marathon of garage rock/post-punk music. While every band in the showcase had good-to-great sets, two of the bands besides Grass Widow deserve noteworthy props. The Black Belles and Turbo Fruits, both from Nashville, showed why the home of the Grand Ol' Opry is also a Bible-belt oasis for post-punk/garage rock. Both bands basically strapped the crowd to their back fenders, put pedal to the metal, and dragged us happily along the dirt road of their gritty, revved up sound.
With lead guitarist and singer Olivia Jean, the Black Belles delivered a knockout sucker punch for folks like me who were hearing them live for the first time. It is no wonder why Jack White signed them on his label, Third Man Records. And just when I thought the Black Belles rocked the house and it couldn't get any better, along came Turbo Fruits, who from the first chord turned up the dial from a Spinal Tap 10 to 11. Lead singer and guitarist Jonas Stein is a garage rock bad-ass who quickly worked the crowd into a mosh frenzy. At one point, with guitar and mic stand in hand, he jumped off the stage and did the entire song from the center of the mosh pit.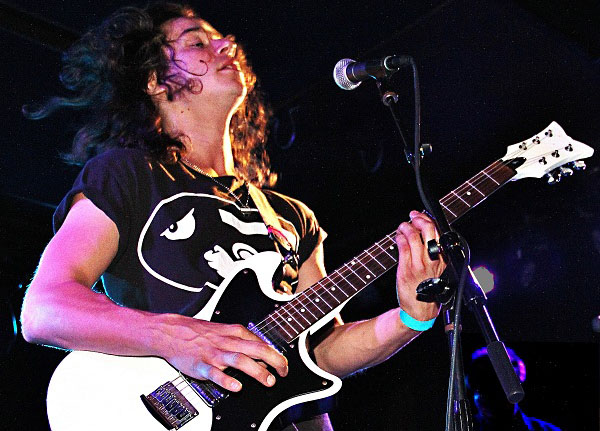 Grass Widow closed out the night, starting their set well past midnight, to an amp'd up crowd still sweating from the body bumping during the previous set. Musically, with no lead vocalist, Grass Widow songs are sung as layered or interleaving harmonic lines. Whether in unison or at times with dissonant intervals, Grass Widow's blend of alto and soprano vocals give off an ethereal, trance-like quality – a kind of punk choral music reminiscent of the intro to The Pixies' "Where Is My Mind" or the chorus in the Breeders' "Divine Hammer."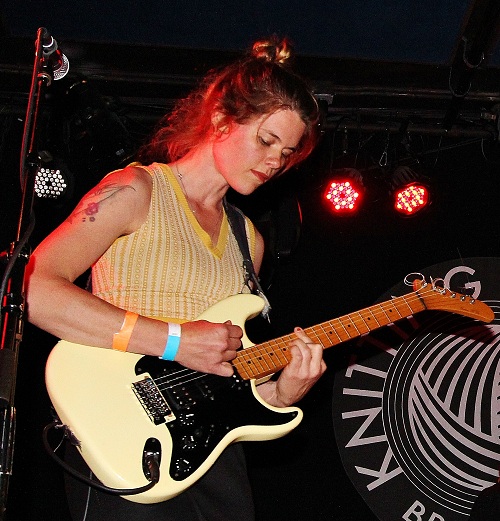 More than half of the songs were off of Internal Logic, which, like their past albums, is packed with abstract lyrics that seem more like stratospheric meanderings set to music. Songs like "Spock On MUNI" (a reference to Spock's visit to San Francisco in Star Trek IV) retain some of the more lighthearted humor that Grass Widow can show, most notably in their videos, like "Fried Eggs."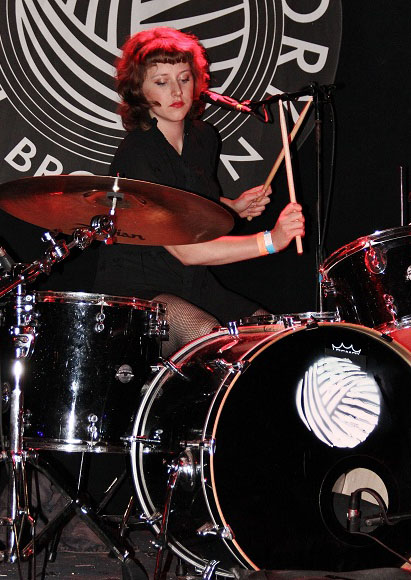 In line with their geek-chic fashionable looks, the band's performance was also quirky and cute. Sporting an auburn hair color that under the red stage lights made her look like a hipper twin-sister of Scully from the X-files, Lillian showed an incredible knack for playing wonderfully syncopated rhythms while tightly locked in vocal harmony with Hannah. Raven rounded out a third part harmony in some songs, but for the most part focused on the driving, spiraled riffs and spaced-out melodic guitar lines on songs like "Goldilocks Zone." A great cover of Wire's "Mannequin" ended the show shortly after 1am.
My only reservation is that listening to Grass Widow, as great as they were, just felt a little anti-climactic. Following such a charged band like Turbo Fruits is like following up a meal of habanero-hot buffalo wings with a light dessert and a cappuccino. Don't get me wrong. Grass Widow played a great set and I totally dig their slightly mellower music. It's just a different flavor of post-punk, and one that I would've rather heard performed earlier in the night. To go against concert planning convention, playing last shouldn't be a popularity contest for a showcase. Instead, it's in the showcase's best interest to have the audience enjoy the overall show with a good transition between acts.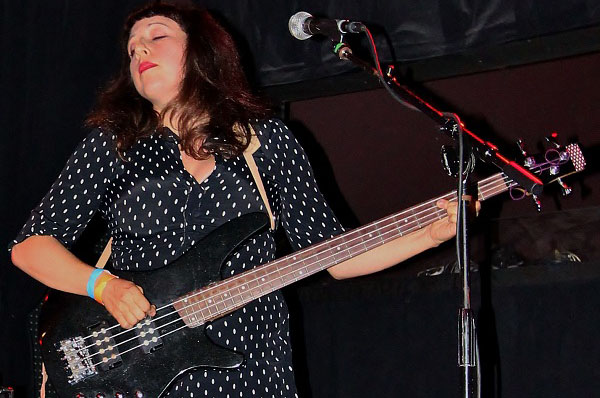 Regardless of the order, this whole night was a no-miss bargain where only $14 at the door gave entrance to such an amazing line up. And in some ways, listening to Grass Widow close out the showcase was musically gratifying in an Alice in Wonderland kind of way; the dialogue didn't always make sense at the Mad Hatter's tea party, but it still made for a wonderfully fun and perplexing time.
Grass Widow: http://grasswidow.org • Turbo Fruits: http://turbofruits.com • The Black Belles: http://theblackbelles.com ◼
---