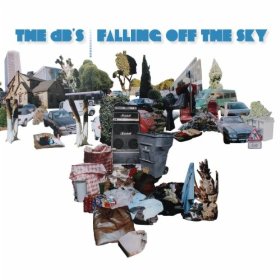 The dB's
Falling off the Sky
Bar/None
The dB's were always one of rock's more underappreciated and unfairly forgotten bands. But you could be forgiven for a lack of familiarity with the band's oeuvre to date. Early efforts Stands for Decibels (1981) and Repercussion (1982), with their heady mix of arty British psychedelia-influenced pop and southern jangle, were just a bit ahead of their time (R.E.M. and others would soon take that ball and run with it). Plus, the records were only available as pricey imports back then, even though the band hailed from North Carolina (I still have my vinyl somewhere). Original member Chris Stamey (the psychedelic half) left the band after the second record, leaving Peter Holsapple (the rootsier one) to soldier on with bassist Gene Holder and drummer Will Rigby on 1984's Like This (released just as their label was going out of business) and 1987's The Sound of Music. So it's been 30 years since the last record by the original dB's lineup featured here, and the good news is, unlike many things in life, it was very nearly worth the wait.
"There's no going back," sings Holsapple on the organ-punctuated opening rocker that sounds more like another '80s roots band, The Long Ryders. "All those times are finished with and done / You better wake up, wake up, wake up / That time is gone."
Indeed the dB's may be back together but they're a different animal than they were. How could they not be after 30 years? In the interim, Stamey recorded solo records and produced the likes of Alejandro Escovedo and Whiskeytown while Holsapple took part in a supergroup called the Continental Drifters with a Cowsill and a Bangle and became a go-to sideman for R.E.M. and Hootie and the Blowfish. Holder was a member of a band called the Wygals and produced records for Yo La Tengo, Steve Wynn and others. Rigby recorded and toured with the likes of Steve Earle. Holsapple and Stamey even reunited for a pair of terrific duo albums that, while sounding nothing like the dB's, had their own unique charms.
The sweet "Before We Were Born" pairs the herky-jerky rhythms of the band's early work with Stamey's advanced, unparalleled melodicism and engaging vocals. "I've got a feeling that I knew you before we were born," he sings. It's a love song, but it could easily be about this musical partnership. These guys have known each other a long time, after all.
Stamey also turns in the pretty, string-soaked ballad "Far Away and Long Ago," which sounds something like a rewrite of The Beatles' "And I Love Her." He offers a psychedelia-touched mini-suite on "The Adventures of Albatross and Doggerel" and ornately-arranged, tempo-shifting pop music on "Collide-oOo-Scope," which bears a passing resemblance to Andy Partridge of XTC (and not just because of the title).
Holsapple takes the lead on the horn-laden "The Wonder of Love." He demonstrates his own melodic ear on "Send Me Something Real," a jangly, wistful gem. "Seems like an eternity / Since you were here with me," he sings. He's also at the mic for "World to Cry," a catchy twang-rocker that would have fit in nicely on the mid-'80s Holsapple-led dB's efforts. Holsapple's "She Won't Drive in the Rain Anymore" and "I Didn't Mean to Say That" are more like singer-songwriter fare, lovely though they are. The latter finds him struggling to hit the high notes in a winning way. By the way, this is the No Autotune Zone folks, so if you like your singers to sound like computer-enhanced robots with perfect pitch, you should look elsewhere.
Even drummer Rigby gets into the act, penning and taking over lead vocals on "Write Back." As a vocalist, he proves he's a heck of a drummer. But the tune is catchy and insistent, if clearly not in the same league as the Holsapple and Stamey contributions here.
The set-concluding "Remember (Falling Off the Sky)" features the harmonies we became more familiar with on the stellar Holsapple-Stamey duo albums (1991's Mavericks and 2009's Here and Now). The band gets a nice little groove going as well and sends things out on a nice note.
Produced by the band with a little help from a couple of longtime compatriots in Mitch Easter and Scott Litt, Falling Off the Sky is a pretty terrific record on its own terms and against all odds. I'm not sure that it's a dB's record, or that it really could be after 30 years. But here's hoping more folks get a chance to hear this missing link between Big Star and R.E.M. this time around and that we don't have to wait another three decades to hear more from this abundantly talented band that simply missed the exit ramp to stardom the first time.
The dB's: http://www.thedbs.com
---