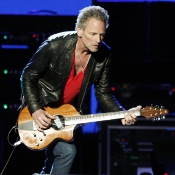 Lindsey Buckingham
The Plaza Live Theatre, Orlando, FL • August 7, 2012
Christopher Long
With its elegant, classic-style intimate atmosphere, including long-flowing black velvet stage curtains, tasteful lighting, state-of-the-art audio production, padded seats, and oh so courteous staff, the 1,000-seat Plaza Live Theater undeniably is Orlando's premier concert venue. Furthermore, there would be no opening act or back-up band tonight. The ticket read simply: Lindsey Buckingham – Solo and Acoustic – ah, a superb scenario, indeed, in which to experience a live performance from a truly iconic singer, songwriter, and musician.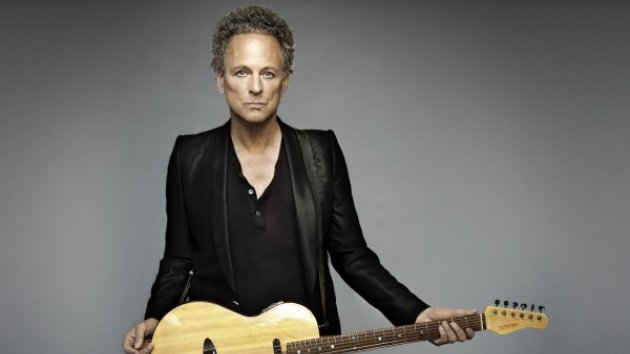 Handsomely dressed in classic tight-fitting Levi's jeans with a black T-shirt and fashion-forward black leather jacket, the dashing and svelte sixty-two-year-old Buckingham took the stage shortly after 8pm. Without saying a word, the legendary guitarist approached the microphone and bowed his head graciously to the sell-out crowd amid a storm of thunderous applause as he broke into the show's opener, "Cast Away Dreams," from his 2006 album Under the Skin.
Despite the advertised implication to the contrary, this performance was anything but laid back. Even Buckingham's acoustic guitars were electrified hot rod models, and his passionate, high-energy delivery was more in line with that of a member of a mega-band performing at an "Enormo Dome" than a solo artist performing in a theater setting.
To most of his legion of adoring fans, Lindsey Buckingham is known as the nuts and guts behind the platinum-selling rock band, Fleetwood Mac. However, this show provided little, if any, nostalgia factor. Boldly displaying his signature multi-finger picking style, Buckingham made even lesser-known solo tunes such as "Not Too Late," "Shut Us Down," and "Seeds We Sow" as compelling and engaging as his much-loved (and revamped) Fleetwood Mac classics, including "Big Love," "Bleed to Love Her," and the Rumours double-whammy of "Never Going Back Again" and "Go Your Own Way."
Choosing simply to let the music do his talking, Buckingham did offer his audience a few heartfelt and insightful personal back stories and industry-related observations along the way (e.g. acknowledging his well-known personal and professional relationship with former girlfriend and bandmate Stevie Nicks as well as discussing Fleetwood Mac's "big machine" status versus the "small machine" value of his solo work).
The late Godfather of Soul, James Brown, was known during his career as the "Hardest-Working Man in Show Business," but I believe that title now belongs to Buckingham's guitar tech. Offering a different freshly-tuned axe for each and every song, this fellow clearly was a top-notch ace, and he handled his responsibility masterfully throughout the seventy-minute show, shining as the night's possible MVP.
Although Buckingham succeeded in connecting with his audience on his own solo chartbusters such as "Go Insane" and "Trouble," it was his powerful and chilling rendition of Fleetwood Mac's 1975 blues-inspired album cut "I'm So Afraid" that truly brought the house down.
Gracious and charismatic, Lindsey Buckingham delivered in spades and further proved exactly why he remains in a league of his own. A dynamic class act, to be sure.
Lindsey Buckingham: http://lindseybuckingham.com ◼
---