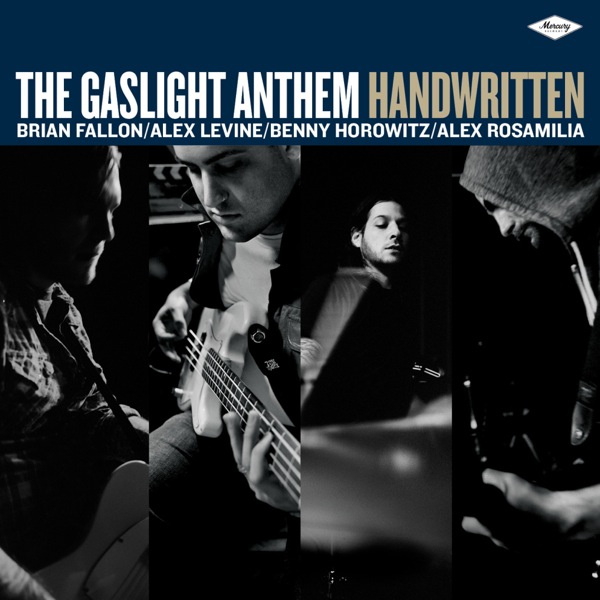 The Gaslight Anthem
Handwritten
Mercury Records
Sometimes feeling sad is as sweet as a warm, dark, fruity glass of wine. It envelops the soul in a blanket that's comforting in its all-encompassing simplicity. "I'm in love with my sadness," as Billy Corgan once sang (on "Zero" ). Every teenager knows this. It's nights spent wallowing, by candlelight. It's every unrequited love, or loss encountered. It's waking up, at age 15, to realize that life is not fair.
The Gaslight Anthem get this, maybe unconsciously, because it seeps through every heart-squeezing chord. It's in the ache of Brian Fallon's unpolished vocals and in the words he pens (If I tell too much truth/ Is there only lies left for you/ If I put too much blood on the page, he sings on "Too Much Blood"). Their 2007 debut Sink or Swim was wet with tears of subtle yearning, The '59 Sound bled with a mature ache, and, though American Slang took the New Jersey band a bit off course, they've returned to form on Handwritten, the album that sounds as if it will define them.
They still wear their Springsteen hearts on their tattooed sleeves, and even pay slight homage to Pixies on the familiarly titled and reminiscent chorus, "Here Comes My Man," but at the heart of every song is unabashed HEART. Like every previous Gaslight album, this one, too, is inspired mostly by girls and a romanticism of "old times." If they could get a set of keys to a plutonium-hopped up Delorean, you just know these guys, stuck in-between the worlds of punk rock, Americana, and classic rock, would hightail it to the '50s and get themselves on a concert bill alongside Elvis, Buddy Holly, and Johnny Cash.
And they'd fit right in, but I'd miss them. I feel privileged to hear "Mullholland Drive," "Handwritten," and the heartbreaking acoustic ballad "National Anthem" in real time, and not in retrospect.
The Gaslight Anthem: http://www.thegaslightanthem.com
---