Metric
with Half Moon Run
Hard Rock Live, Orlando, FL • September 27, 2012
Jen Cray
The innocently sweet whisper of Emily Haines' voice drapes itself atop of a synthesizer-led bed of pop music, careful not to twist or wrinkle. It's unassuming, it's nonthreatening, and – unfortunately – it's a little uninteresting. On record, Metric are like a hard candy that gets sweeter the longer you suck on it; at their Orlando gig, they were like a jawbreaker that wouldn't quite soften down to its crumbly goodness.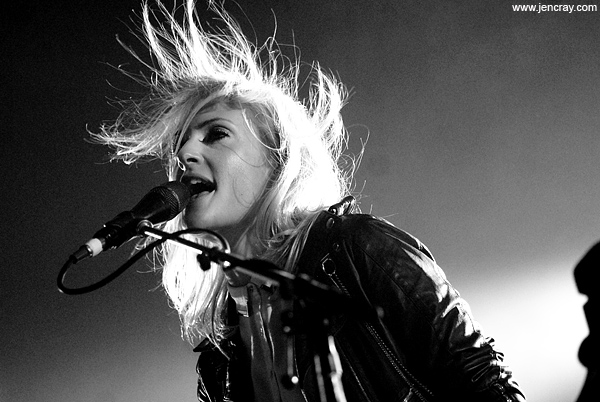 Half Moon Run, a folksy jam band with reggae rhythms, may seem an odd choice to warm up a synth pop audience, but what was stranger was how well they were received. Maybe the fans hit Bob Marley's Restaurant or Margaritaville, in Citywalk, before heading into the Hard Rock Live because they were ready for whatever, even a little "eyes closed/feel the groove of my sweet guitar solo" sway. A Congo-assisted drum circle in the middle of a song? Sure! Bring it on, brother!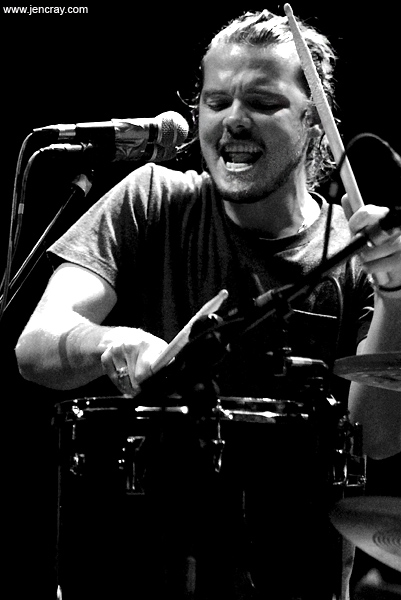 Nestled into a fog-filled shadow that hugged the stage like a dark corner at the Universal's Halloween Horror Nights just around the bend, Canada's answer to the modern New Wave opened with the temperate slow burn of "Artificial Nocturne," off of this year's Synthetica…
…and then they just kept playing that same record. With only a few digressions, Metric pushed their latest release with everything they had. Lucky for them, and for the audience, it's a good record.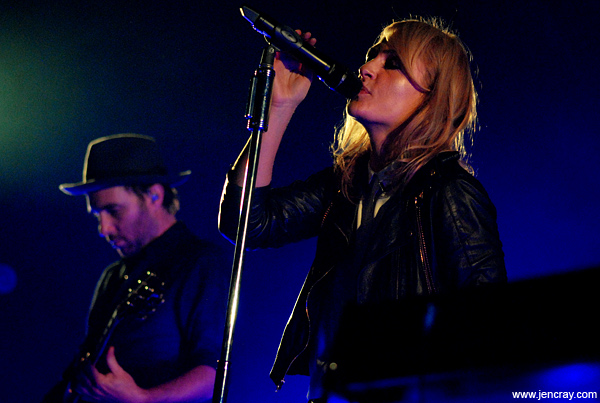 Still, as is usually the case, it was the back-pocket picks that got the room bouncing. "Help I'm Alive" and "Empty" were both handed out, like a peace offering, early on. A subtle promise to the older fans, "We'll play the stuff you know and love, too! "Sick Muse" and "Monster Hospital," with the frenetic light show that accompanied them, breathed some dance life into the roomy dance floor. "Black Sheep," a nugget whose home was the soundtrack to the cult flick Scott Pilgrim vs. the World, was a surprise addition that, as the first encore, pulled in some major applause.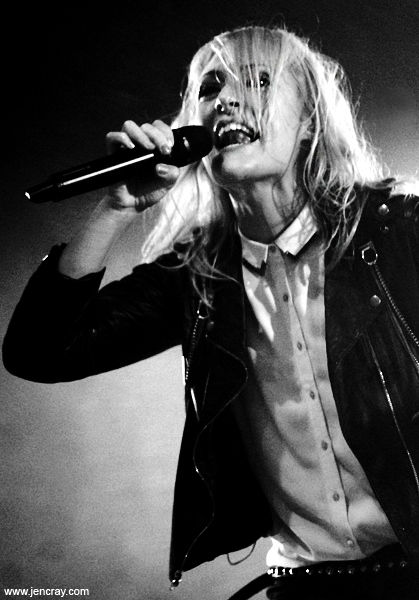 There was nothing wrong with Metric's set, nothing I can put my finger on, but there was something missing from it. That indefinable thing that makes a show GREAT just wasn't in attendance on this night. They've got the song power to be indie dance pop superstars like The Sounds, but they came off sounded more like Letters to Cleo.
The band left the pretty blonde Haines to the task of wrangling in the crowd – which she did her cheerleader best to do, in between lengthy stints behind the keyboards. A lot of head nodding, hairography, and adorable poses was only enough to win over those close enough to make eye contact with the perky singer. For everyone else, the show felt about as intimate as the echo effect on her microphone. It was fun to look at, and the lights and music dazzled, but there were no lasting memories to be made…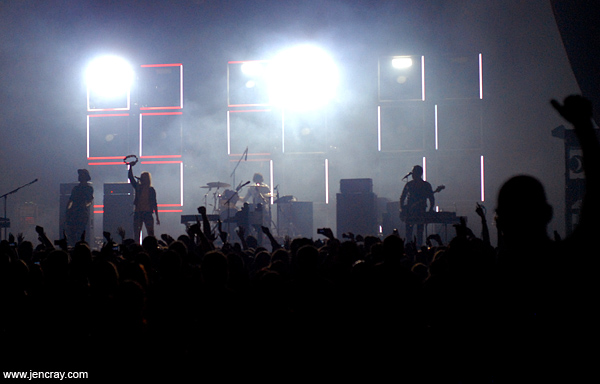 …unless you count the afterimage of bright lights on a big stage.
Gallery of live shots from this show: Metric.
Metric: http://ilovemetric.com ◼
---