Alt-J
with JBM
Bowery Ballroom, New York City • 9/12/12
May Terry
With their debut album, An Awesome Wave, just released in the U.S. to great reviews, and the 2012 Mercury Prize nomination for Album of the Year, the Leeds, UK band, Alt-J, is certainly riding an awesome wave of and success selling out small venues across the U.S.
As in their previous NYC appearance at the Mercury Lounge earlier this summer, their Bowery Ballroom concert was a sold-out show, and I was lucky enough to have a ticket. Why do I consider myself lucky, and for those still unfamiliar with Alt-J, what is it about this band that in such a short time has pulled in so many listeners under their musical rip tide?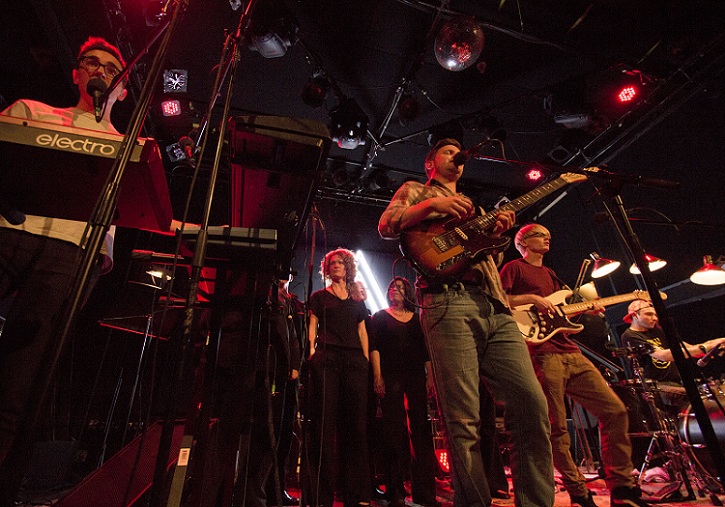 Alt-J's music has been called by a number of critics as genre-defying or unclassifiable because, like their video for "Mathilda", the Alt-J sound is a continuous morphing of different styles – no two people, from casual listeners to formally educated musicians, can give a consistent answer of what they sound like.
Yes, there are hints of Radiohead, but without the over-reaching cinematic grandeur. And there is a bit of Coldplay's etherealness, without Chris Martin's occasional whiny intonations. Still, it's more than just a mash of both bands; you just have to listen to Alt-J. To best describe it, other than me banging your head against a wall until you do, I'll have to do my best to give some notion of what you may find:
• A harmonic structure that is, as the band admits in their lyrics to "Intro," a nod to the canon. Quite a few of their vocal harmonies draw heavily from 17th and 18th century musical canons.
• Melodies that sometimes seem like a modern twist on English folk tunes sung over a refined electronic indie-pop sound.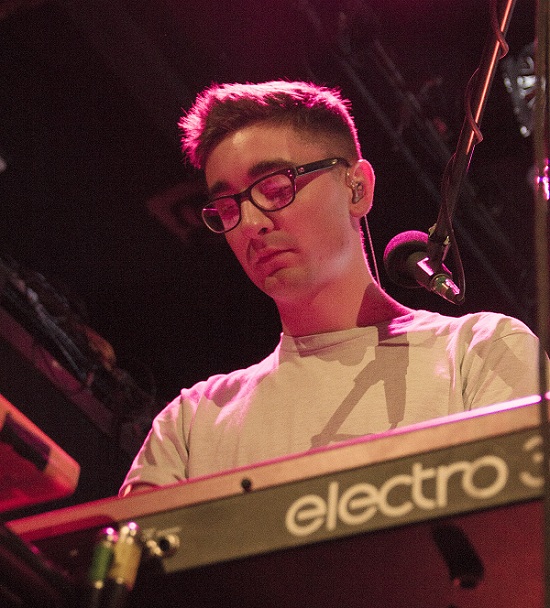 • Trip-hop rhythms from the highly talented drummer/percussionist, Thom Green, laced with heavily distorted synth bass lines and trippy synth chords by Gus Unger-Hamilton, and entrancing guitar riffs from Gwilim Swainbury.
• Joe Newman's lead vocals, which have a somewhat tinny, raspy, and breathy intonation. When combined with his phrasing in songs like "Tesselate," Joe exudes an amazingly seductive vibe (possibly explaining why there is a girl-swoon factor at these concerts).
• Smart and thoughtful lyrics with literary and historical themes that are both passionately heroic and intimate at the same time. "Something Good" seems reminiscent of Hemingway's love for bullfighting in The Sun Also Rises amid the backdrop of a passionately dysfunctional romance in 1920's Spain, and "Taro" recalls the love between war photographers, Robert Capa and Gerda Taro.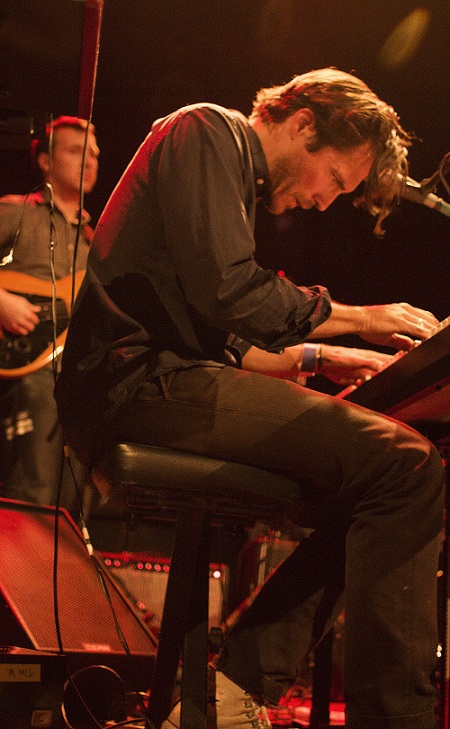 Now to the event, which started very late with JBM going onstage at 10pm. JBM (the initials for lead singer/songwriter, Jessie Merchant), delivered a moving 45 minute set of melancholic songs and deep, personal reflections from his current album, Stray Ashes. Whether singing with a guitar center-stage, or behind an electric piano, JBM was well received, and showing that he is an accomplished multi-instrumentalist that can easily headline his own show.
The Alt-J set would start to an excited crowd shortly after 11pm when a neon white triangle, "Δ" (or the Apple computer keyboard symbol generated by pressing "Alt-J" keys) flickered on in the back of the stage, and an unassuming, rather nerdy-looking foursome walked up stage left to take their places.
The band started with "Intro" and then brought a female chorus out for a great rendition of the carol-like acapapella, "She, She, She" (aka: "Interlude #1" on the album). The arrangement was elevated on a grander scale with altos and sopranos to complement Joe's tenor and Gus's baritone voices. The set would continue on for 70 minutes with all songs from the debut album, including "Tesselate," "Ms," "Mathilda," "Breezeblocks," and their first U.S. single, "Fitzpleasure."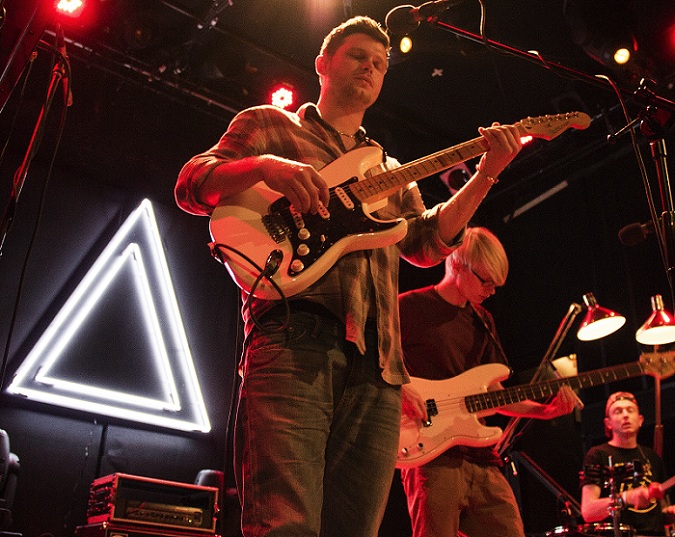 The audience, clearly fans, and engaged, seemed a little awkward in how to react, and limited their cheering, not because they didn't like the music, but because there was more attentiveness to actually listening to the band more than their own voice in a sing-along. In a surprising turn, during "Dissolve Me," the most upbeat song in their set, the quiet break two-thirds into the song starts with a whisper and builds up with emotionally powerful vocal harmonies. I could hear some of the audience actually sing along with the vocal crescendo – and it sounded great! The emotional energy at that moment made my eyes well up with tears before the uplifting keyboard riff and vocal interchanges between Joe and Gus ended the song.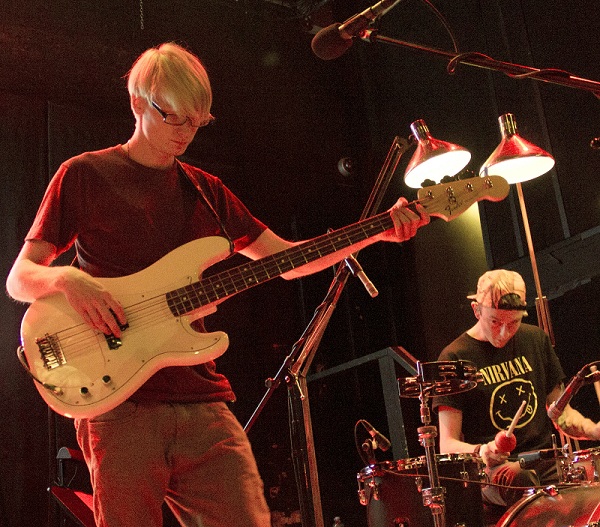 "Bloodflood" was the last song in the set, and brought the chorus back on stage for backing vocals that are similarly heard on the album. Joe's vocal phrasing in the way he sang, "breathe in… exhale," has one instinctively breathing with him. The effect is hypnotic and sensual. The Bowery Ballroom's acoustics and sound engineers did a great job to ensure that such vocal nuances were easily audible, especially when so many venues tend to drown out vocals on the mixing board.
Alt-J returned for the encore and performed the song "Taro." They were joined by a cellist and violinist who wonderfully enhanced the song's emotive power to the very last note. It was an equally noteworthy end to a fantastic concert.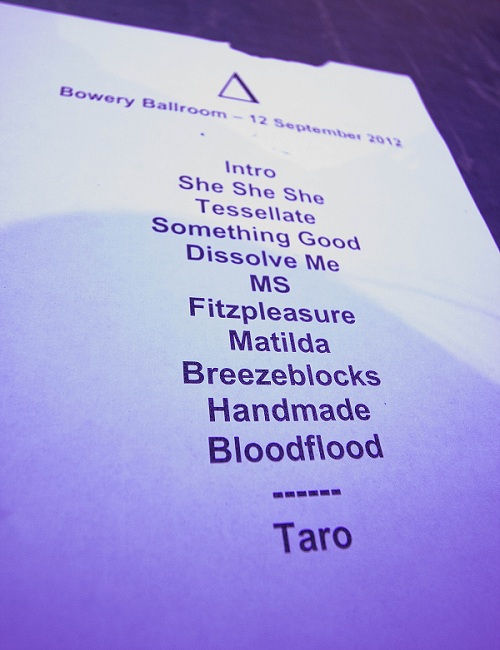 Alt-J will be touring the U.S. through the end of October before moving on to Europe, but I can guarantee that this band will be back. And like a strong wave during high tide, with each crash ashore, they'll be pulling in those waiting on along the shore when the waters roll back to sea.
Alt-J: http://altjband.com/ ◼
---