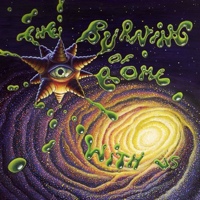 The Burning of Rome
With Us
Surfdog
The Beatles' "A Day in the Life," in all its epic, trippy, anxiety-inducing, obnoxious – yet insanely original – brilliance is the seed from which San Diego's The Burning of Rome sprouted… at least that's how their debut album, With Us leads the ear to believe.
Swirling, oozing sounds, audio clips from Little Shop of Horrors and electronic warbles transform themselves into indelible melodies – strangely pop-centric songs where guitars and drums dominate, but bump up against a spastic glockenspiel.
Birthed from the muddled mind of lead vocalist/keyboardist/producer Adam Traub, the dozen songs spinning on the airwaves (three remixed by Butthole Surfers) are as difficult to define as a butch softball player with a boyfriend. There are some easily digestible rock songs like "Wake Up Edamame," "Cowboys & Cut Cigars," and "The Universe if Made of Nonsense." There are the artsier electro dance offerings like "Ballad Of An Onion Sprout" (which opens and closes the album) and the gypsy stomp of "Why Can't I Stop Killing My Friends?" and "Island." All are odd, but accessible.
…but then there's "Norman Bates" – which starts with sweet, yet creepy, vocals over a head tipping piano groove, that soon battles for air with a Marilyn Manson-esque growl and yowl. Speaking of creepy, "Opus For Sleepwalking" is a bad acid trip through a haunted house, and it goes on and on for over six minutes… which is nothing, when compared to "Untitled." Nothing short of 16 minutes of X-Files alien sound effects that are more of a psychological experiment to see how long someone will listen rather than an actual song.
Despite the moments of discomfort, this album (this band) sucks you into its web and locks you down like an eight hour chemically enhanced buzz.
The Burning of Rome: http://www.theburningofrome.com
---