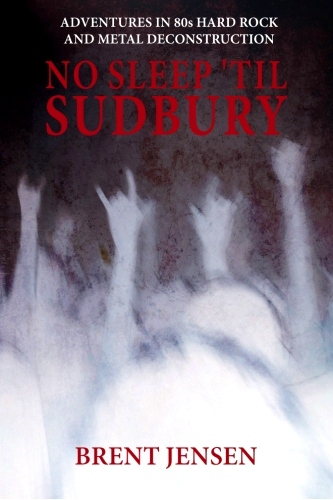 No Sleep 'Til Sudbury
by Brent Jensen
Edwards Press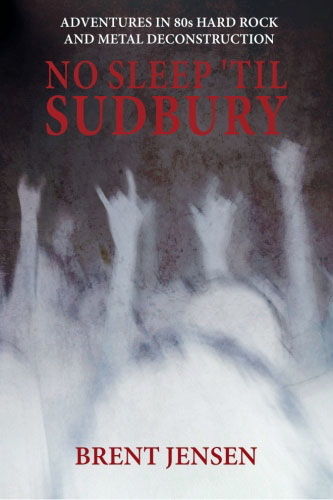 Author Brent Jensen is a walking, talking, human Wikipedia-like source for all things metal. And he delivers a fascinating read, chronicling his lifelong obsession with heavy metal music. However, No Sleep 'Til Sudbury has much more to offer readers than regurgitated factoids, obscure band references (Icon, Oz and TKO), and ad nauseam commentary regarding the genius of the likes of Accept, Metallica, and Queesnryche.
Jensen is a true wordsmith and a master storyteller. He's passionate and articulate and tells his tale with candor and wit, coming off as knowledgeable and quite likable, but he doesn't mince words. He refers to Mötley Crüe's 1983 Shout at the Devil album as "a stupid record for stupid young people." He thinks that the Christian glam band Stryper is "gay." And he compared his 1997 Iron Maiden concert experience to "visiting someone in the hospital."
But Jensen is no one-trick pony. From confessing his love for such vintage TV shows as WKRP in Cincinnati and referencing classic movies, including Fast Times at Ridgemont High, to recounting his prepubescent frustration regarding the unavailability of Yummy Mummy breakfast cereal in his small Canadian hometown of Espanola, you don't have to be a metal aficionado to connect with his many pop culture observations, although it does help.
And therein lies the payoff. The true meat of Jensen's story is his story. Oh sure, chapter-long analysis of Guns N' Roses and Black Sabbath or an in-depth history of Canadian hard rock/metal including overviews of such Great White North artists as Rush, Anvil, Sebastian Bach and Lee Aaron is certainly intriguing stuff, especially for old school rockers, but readers typically want more. And Jensen delivers in spades.
The countless non-music pop culture references are fun and give additional insight into Jensen's life. In fact, the further he distances himself from his heavy metal theme, the brighter he shines as an author and storyteller. Personal "coming of age" anecdotes of growing up in a small town during the 1970s and '80s – discovering bands, friends, girls, and the heartbreak of ultimately moving beyond all of the above – make for a truly compelling read.
Additional accounts of adult-age all-night binge drinking and drug-induced stupors with the wrong combination of cohorts are equally engaging and often laugh-out-loud funny. Other personal musings, however, are a bit more disturbing. "Life just seems so much easier when you're drunk," Jensen suggests. But he reassures his readers by offering, "I don't even drink that much anymore really. I can't deal with the hangovers anymore."
Yes, by the book's end the reader finds the former restless metalhead, Jensen, as a reflective 40-year-old – married, gainfully employed and (seemingly) responsible – but still rockin'!
In sum, come for the music, but stay for the story.
No Sleep 'til Sudbury: http://www.nosleeptilsudbury.com
---