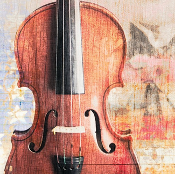 Pa's Fiddle: The Music of America
directed by Randy Scruggs
starring Dale Cockrell
Peak Moore Enterprises and Santa Fe Productions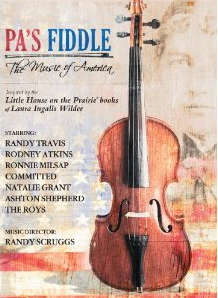 You've seen the TV show, or maybe you've read the books, but either way, Laura Ingalls Wilders' Little House on the Prairie series is one of the best looks at settling the frontier you'll find. As she grew up, her dad kept moving west; his motto was "It's time to move when I can hear another man's axe." There wasn't much entertainment on the prairie, but dad was a skilled fiddle player and she mentions dozens of his songs in her books, and now we have a slick recreation of these tunes guided by musicologist David Cockrell.
None of these performers are likely to settle a new continent – their hair is too nice and they just don't have the arm strength to swing an axe all day – but they do show some of the best fiddle playing around. The setting is the Loveless Barn in Nashville. It looks about as much like a barn as the one in Summer Stock, but the sound and lights are nice.
Many of the songs here are familiar, a few not. You've sung "Old Kentucky Home" (Natalie Grant) and "Dixie" (Ronny Milsap) and must have heard "The Arkansas Traveler" (Pa's Fiddle Band), but "The Gum Tree Canoe" (The Roys) and "Old Dan Tucker" are a bit more obscure. All are executed beautifully, and there's a little bit of an intro on each one, some of which might be true. (Example: When a Southern soldier heard a Union boy singing "The Battle Cry of Freedom," he knew the South's cause was lost. Snopes, anyone?)
Along with the main program, there are some nice special features. Mr. Cockrell talks about the music and knows his stuff, and there's a semi-animated narrative about Ms. Wilder and the struggles she had to get the books printed in the Depression. While some folk music videos can drift off the mark, this one stay on target and is a completely engaging way to spend an hour or two in front of your old hand-cranked DVD player.
Compass Records: http://www.compassrecords.com
---