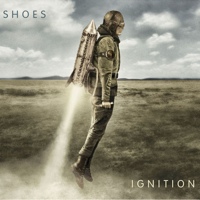 20/20
20/20–Look Out!
Real Gone Music
Shoes
Ignition
Black Vinyl
Ah, 1979. I was a junior in high school, slowly climbing out of the southern rock swamp to embrace punk, new wave and this great genre -0- power pop. A combination of fawning adoration of The Beatles along with The Who's power chords, every town seemed to have a couple of practitioners. I guess you could say Big Star was the prototypical power pop band – remember "September Gurls" or "Out In the Street"? Generally the songs were full of chiming Rickenbacker guitars, great harmonies, and odes to young lust, and two of the best back in the day were 20/20 and Shoes.
20/20 has seen the reissue of both of their original albums from their major label days: 1979's self-titled debut, and 1981's Look Out! on one CD, and it's just as good as you remember. Lo-fi and loving it (although not to the level of Guided by Voices, perhaps), Steve Allen, guitar and vocals with Ron Flynt, bass and vocals, sound impossibly young on these records, but it's the buzzy energy of youth. From the opener "The Sky Is Falling" to "Yellow Pills," which provided the title of a series of power pop compilations, this is excellent stuff. Every song is full of hooks atop urgent guitars, and the two voices harmonize sweet as you'd like. The second album, Look Out! may be a bit darker, with songs such as "Nuclear Boy" and "The Night I Heard a Scream," but this is not intellectual music. It's the music of summer and chasing girls, and 20/20 helped define it.
Shoes, with their first release in 18 years, Ignition, don't seem to have aged a bit. Granted, the album is a bit more produced than their earlier works, but fans of Gary Klebe and the Murphy brothers, Jeff and John, will revel in this great record. From the dueling baritone guitars of "Sign of Life" to the fun "Hot Mess," it's as if all those years never occurred, and we're all back in 1979.
Power pop was never a big seller, in the times of The Wall or Thriller, but its influence was vast. When you see Robert Pollard leading GBV thru "Cut Out Witch" or dance to The New Pornographers, you can be sure they have loads of this stuff on their iPods. You should too. So break out the Members Only jacket, find your best skinny tie, and rock!
20/20: http://twitter.com/2020music • Shoes: http://shoeswire.com
---