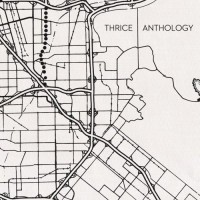 Thrice
Anthology
Staple Records / Workhorse Music Group
First Thrice gave fans a heads up that they were "taking a break from being a full-time band." Then they gave 'em a Farewell Tour… and let them choose the setlist via their website. As if Thrice hadn't already done enough for their most loyal of loyalists, they recorded select dates of that tour and released them as a double disc live album, complete with a photo booklet of shots from the tour.
What a bunch of great guys! Of course, they could've just not broken up, or whatever they wanna call it; that would've pleased the fans too!
"We were on a breeeeaaaaak!" as Ross from Friends would put it.
Perhaps because of the imminent vacation from touring that loomed on the horizon like the last day of school, Thrice were at their peak for this final tour, and the audiences were ravenous for one last blowout. The resulting double album – their second live release, after 2008's Live at the House of Blues – is nothing short of a Thrice fan's feast.
The setlist hits upon all of their eight albums, turning a 14-year career into a two-hour celebration of highlights. Every stage of Thrice's career is present, from the early post-hardcore metal of "T & C," a song that had long since been retired, but was "brought back for this tour, because you guys wanted to hear it," through the experimental, conceptual period ("Daedalus," "Digital Sea") and the blues folk of "Come All You Weary."
No Thrice performance would be complete without a good, solid collection of barn burners, and those are here in plenty. "Deadbolt," "The Artist in the Ambulance," "To Awake and Avenge the Dead," "Phoenix Ignition" – you may not be able to see the sweat staining the floor, but you can practically smell it.
It's a perfected setlist and a gorgeous compilation of performances, leaving little room for complaining… except for the whole hiatus thing. Where Dustin Kensrue, Teppei Teranishi, and Eddie and Riley Breckenridge will decide to funnel their musical energies in the future is anyone's guess. So, I'll just say it – what all we fans are thinking: when's the reunion show scheduled to happen?
Thrice: http://thrice.net
---