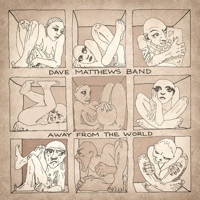 Dave Matthews Band
Away from the World
Columbia
I've been a Dave Matthews Band fan since I heard "Ants Marching" and bought the album Under the Table and Dreaming when I was 14. I watched them win their first Grammy (for "So Much to Say"), celebrated the devilishly brilliant Before These Crowded Streets, followed them through the whole Glen Ballard fiasco (the making of Everyday), get bogged down for about a decade and then re-emerge two years ago with Big Whiskey and the Groo Grux King. On their latest album they regress a little, but still create some great music.
Away from the World follows the positivity and feel-good vibe of their last effort, especially in the chorus of their lead single "Mercy." "Mercy, will we overcome this/ One-by-one could we turn it around/ Carry on just a little bit longer/ And I'll try to give you what you need."
"Gaucho" has a heavy bridge (by DMB standards) that infuses electric guitar with a Mexican-flavored brass sound, and somehow they make it work. They work that heavier sound on the grittier "Rooftop," which works the raspier side of Matthews' voice. That sound, however, is few and far between throughout the album. Just like on 2005's Stand Up and 2001's Busted Stuff, the band as a whole seems to have found a comfort zone and seems content with parking its sound within self-made walls.
This is the first full album without founding member and saxophone player Leroi Moore, but you wouldn't know it as there is sax and brass liberally thrown into almost every track, almost as an homage to a bandmate and a friend.
Away from the World fits more with DMB's early 2000s mellow groove rather than the more upbeat Big Whiskey. So if you are into the laid-back chill that the band has perfected, this will fit right into your collection. If you're like me and prefer their more adventurous work, then this will disappoint.
Dave Matthews Band: http://www.dmband.com
---